UPDATE October 2022

: Looking for me? Military life has us moving again, as it does. So while I won't be posting, if you have questions you can always leave a comment on any post or email me at editor.nikkifromhr@gmail.com.
If you watch beauty videos on YouTube you may have seen this concept popping up where people are highlighting makeup that was so good they needed more. I thought I'd run with that idea but instead talk about a few things that I'm not going to buy more of despite really enjoying them. I'm no stranger to buying multiple colors of the same formula and as you'll see in the last two, I already own multiples. I'm just trying to buy makeup differently moving forward.
This blog uses affiliate links (marked with **). I may earn a small commission when you purchase through links on my site. Learn more here.
I have posted a full review with swatches if you want my full thoughts on this palette. I have owed several Dior 5 Couleurs over the years and I'm never disappointed. Every time I wear Mitzah, I'm impressed by how smooth they are on my eyelids, while still having enough shine to stand out. Lately, I have been reading and watching reviews of the 579 Jungle version because I love green eyeshadow but as with most colors, all greens don't work for me.
Dior 5 Couleurs Couture Eyeshadow Palette 579 Jungle 0.24 oz / 7 g**
While I do think that the two greens in this palette would work out great, I really think I'd mostly only use the 1 green shimmer shade and the rest of the palette would be a waste for me. In the reviews I've watched, the dark green matte does seem to show as green, so that was good to find out, but I hardly ever use shades that dark. Buying this palette would just take time away from enjoying the Mitzah palette.
The Dior 5 Couleurs Eyeshadow Palettes can be purchased for $62.00 at nordstrom.com** and sephora.com.**
---
NARS blushes aren't my favorite formula, but their colors keep me using them very regularly. Despite being happy with Savage and Liberte, I find myself wanting to buy the shade Taos. I used to own that shade in a palette several years back and loved the color on me so it was easy to convince myself it'd be a safe purchase.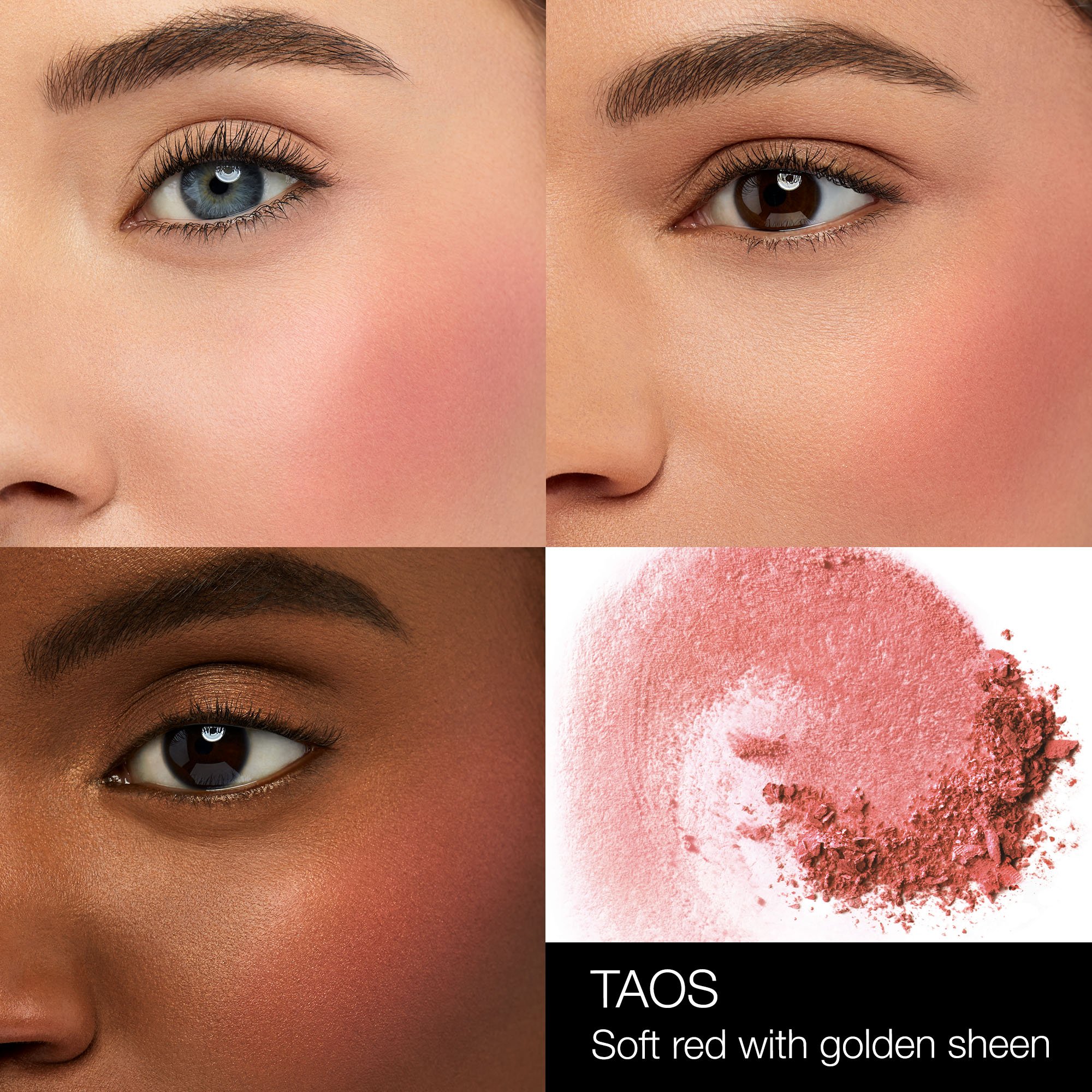 This was a lot easier to come to my senses about, mainly because I use my MAC blushes more than any other formula. Although I enjoy both of these shades, I would use one of my MAC blushes before these. So it just doesn't make much sense to buy another one that will get passed over more often than not. I don't mean to make it sound like a bad formula, because it's great. Savage is a shimmer finish that doesn't accentuate my texture issues and it goes with everything I've ever paired it with really nicely. Liberte is a great spring and summer blush for me because it brightens my face and although it's basically matte, it is not flat. Another thing I appreciate about the NARS blush formula is that it isn't messy. The firm press in the pan keeps it from being dusty but it still picks up on a brush with no issue. I do personally feel like these blushes really shine when used with natural hair brushes, but they do work with synthetic brushes as well. If you are interested in these shades I have swatches of both posted that you can check out with these links:
The shade Taos seems to be hard to find in stock, but as far as I know, it has not been discontinued. It is currently in stock at Neiman Marcus** and it goes in and out of stock at Nordstrom.**

---
I haven't always been a fan of the Pat McGrath eyeshadow formula and even now it is not my go-to formula, but I can't deny I've really been enjoying these. I do personally think there is something special about the Pat McGrath formula but I do find them to be messy (fall out) and I think the mattes are harder to work with than other formulas. Luckily for me, she doesn't add a lot of mattes to her palettes anyway. The single matte shade in the limited edition Bronze Borealis Luxe Quad does perform well and blends easily for me which isn't my typical experience with her mattes. I think part of the problem is how pigmented her mattes are and that they are typically quite dark in shade as well. I don't get around to using the dark matte in the limited edition Belle of the Ball palette, so I haven't really been bothered by that this time around. So in my excitement over loving my Pat McGrath palettes, I started looking into what else the brand has in the quad and 6-pans sizes. That led me to the limited edition Rose Decadence palette that has been reduced to $42.**
Limited Edition MTHRSHP: Rose Decadence – PAT McGRATH LABS**
The Rose Decadence doesn't have any of the "special" shades like Belle of the Ball, but that's fine by me. The special shades have impressed me and I especially enjoy wearing forever charmed which is the chartreuse/gold in the Belle of the Ball palette. However, I just know I'd mostly gravitate to the metallic shades anyway, so that wouldn't be a deal breaker for me. Then reality starts to set in lol. At first glance, I feel like the colors are good for me while still being different enough from other things I own. However, as I looked at the eye looks people have created, they turn out fairly pink, which is a color I don't like on myself. If I lean more into the gold, then the palette isn't so unique anymore. Come to think of it, I also have the single eyeshadow in enraptured so there's another gold right there, and it's from Pat McGrath 🙄.
I may reconsider my responsible behavior when I see what the brand has in store for Holiday 2022. But until then, I'm gonna stick to enjoying what I own now. If you are interested in the Bridgerton 2 Belle of the Ball palette, it is still in stock and on sale for $59.** If you need swatches of Belle of the Ball I have those posted here. It was from Holiday last year, but if you do manage to come across a Bronze Borealis quad, I did a review and posted swatches of that one.
---
What about you, does anything have you tempted to buy more?
---
If you enjoyed this post, please give it a like down below. If you'd like to check out more of my content, here are some places to start.
Brands A-Z: Check out this index if you want to know what products I have posted about in the past.
MAC Cosmetics: I likely have some swatches you've been searching for if you love Mac as much as I do.
The Wanderlust List: Join me as I search for alternatives to new releases.
Disclaimer: I purchased all products featured with my own money. This site receives a minimal commission from participating in the WordAds program and using affiliate links. For my full disclosure policy, click here.