Organizing your makeup doesn't have to be complicated or expensive. I thought I'd share a few of the ways I've stored makeup over the last several years to give you some ideas. Most of what I use is under $20 per item (or was at the time of purchase) and these items (or similar) can be found at Walmart, Target, TJ Maxx, and Amazon. Of course, I have to give you the standard blogger disclaimer that I have a lot of makeup because I review products and you don't need this much stuff unless you want that much. Also keep in mind that these photos are just sections of products throughout different periods in time, so it is not necessarily everything I own at present. As a military spouse, I move a lot so these examples are from different houses so I've had to rearrange out of necessity over time.
This blog uses affiliate links (marked with **). When you purchase through links on my site, I may earn a small commission. Learn more here.
Drawer/Countertop Set Up
Foundations, concealers, and face powders are on the countertop in this:
Sterilite 3 Drawer Small Countertop Drawers $9.98**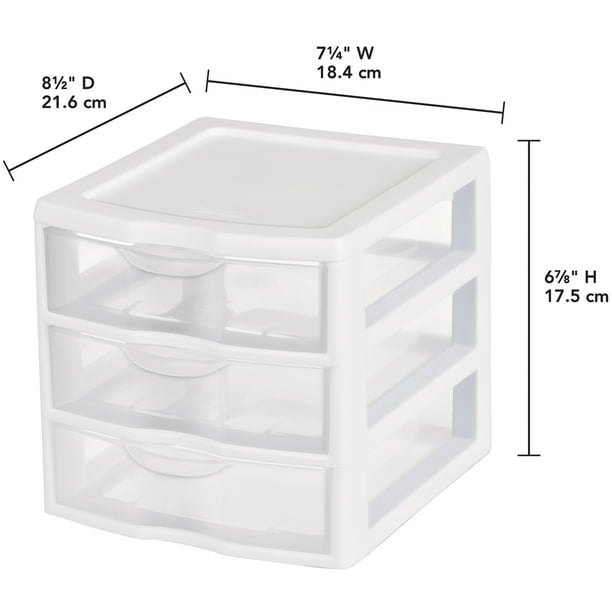 I prefer these open containers versus having structured cubby holes. I'm the type of person that will try to fill empty spaces, so I prefer to be able to spread things apart or push things together as needed. I know some people are screaming at me because this makeup was stored in a bathroom. This was a guest bathroom and we didn't use the shower in it, so it was never humid. For those that don't know, the temperature fluctuations that your bathroom go through due to humidity isn't the best environment for makeup. However, if you have a small amount that you tend to use up regularly, you should be fine.
Brushes and Lip Balm:
Madesmart interlocking organizers, $6.33 for a set**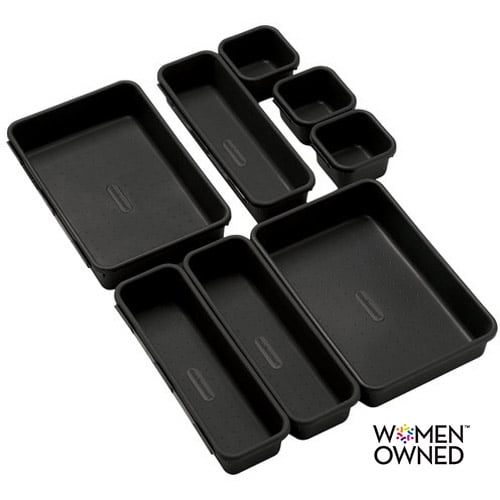 Blush, bronzer, and highlights are in a different Rubbermaid style that may have been discontinued:
Similar style with the same dimensions – Rubbermaid Drawer Organizer, 6 x 9 x 2, $5.68**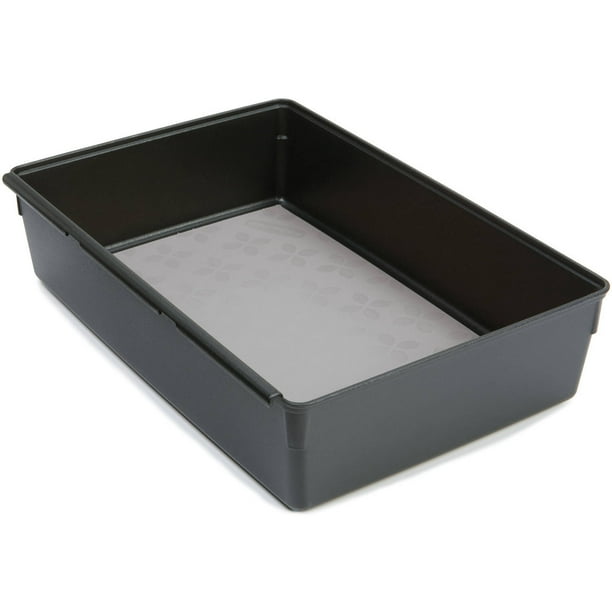 Single eyeshadows are in a different Rubbermaid style that may have been discontinued:
Similar style with the same dimensions – Rubbermaid Drawer Organizer, 3 x 9 x 2, $4.88**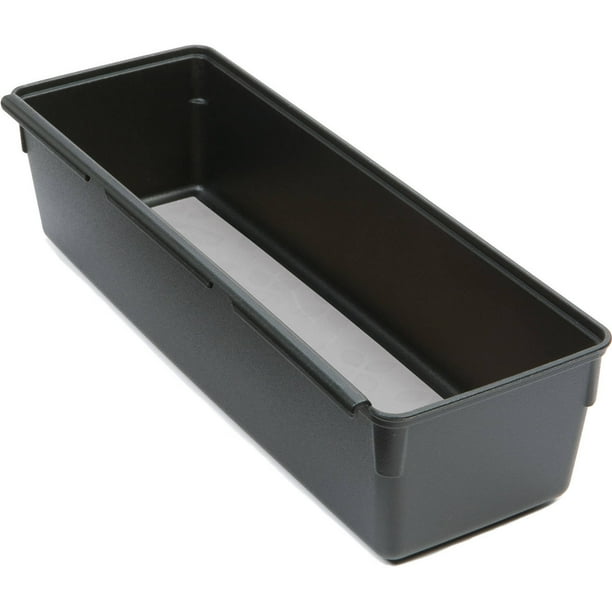 Eye primers, Eyebrow products, mascara, eyeliner, and lip liners:
InterDesign Rain Clear Cosmetic Trio Cups, $8.99 (Amazon, not affiliated)
Similar style – mDesign Plastic Makeup Organizer Storage Cup, $12.49**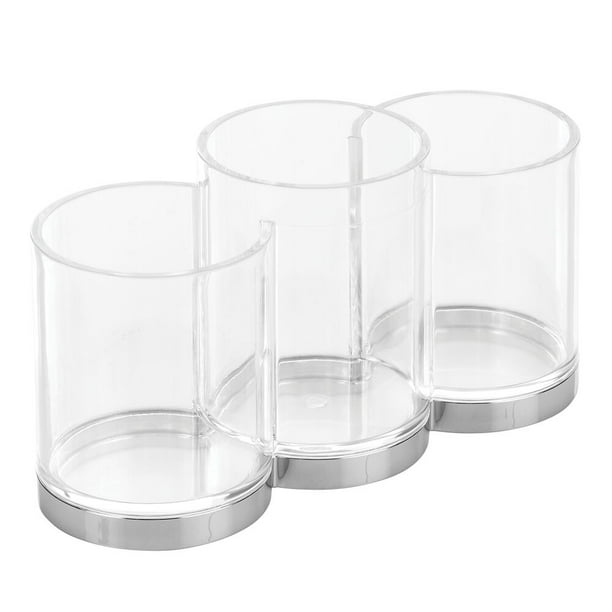 Similar Style – Groovi Beauty The Coordinator, $13.97**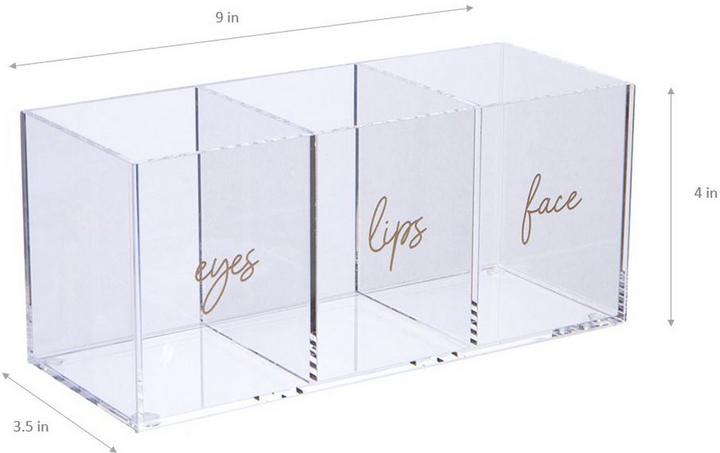 Lipstick, lipgloss, lip primer:
byAlegory Acrylic Lip Organizer (Lip Gloss, Lipstick, Large Based Lipsticks) 23 Spaces, $18.99 (Amazon, not affiliated)
Alternative style – iDesign 18 Compartment Lipstick Organizer, $13.99** or iDesign Onyx Lip Station, Clear, $9.99**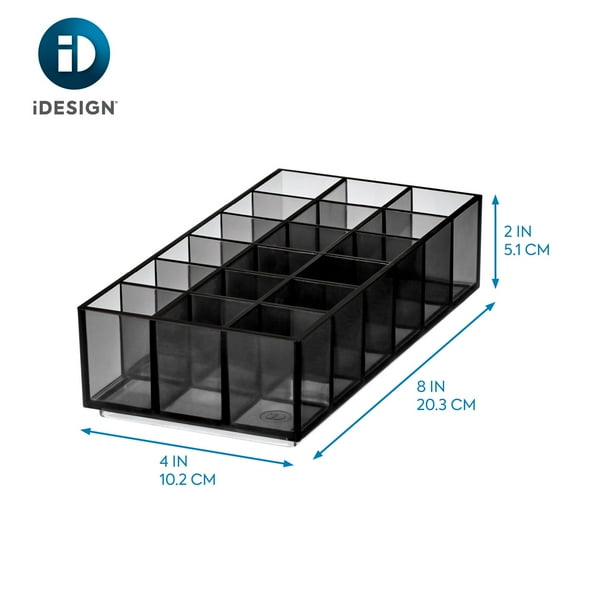 ---
Small Cabinet Set Up (Elegant Home Fashions Glancy – 26 x 13 x 32)
Small palettes, bronzer, highlighter, etc:
The non-interlocking Madesmart 3-Inch x 9-Inch Drawer Organizers that I have are no longer available. It is on Bed Bath and Beyond (not affiliated) as being back-ordered, but the actual brand no longer lists this style on their website (not affiliated). Since these already have a non-skid surface at the bottom, the Rubbermaid Drawer Organizer, 3 x 9 x 2, $4.88** is the closest I can recommend.

Face palettes, eyeshadow singles, and duos:
Landscape Acrylic Paper Drawer, $29.99 (The Container Store, not affiliated) – So back in 2019 I was able to get these on sale for $19.99 so they are clearly not as affordable as the other options here. I started with these 2 and ended up ordering 4 more that you'll see in the last example photo, so I would clearly still recommend them.
Small White Cabinet (26″ x 13″ x 32″):
Elegant Home Fashions Glancy Wooden Floor Cabinet, $148.03** – DISCLAIMER: I bought this back in 2017 when it was $82 after tax and at the time, that was the MAX I would've recommended spending on it. It looks very nice but the construction of the back panels that provide stability was a problem. My back panels were not the right size for the height of the cabinet and while customer service was helpful and seemingly willing to send new back panels, those were also the wrong size. This was despite them asking me for the measurements of their cabinet to ensure they'd be the right size. Then I had to follow up several times because they were experiencing delays that they did not notify me about. It was a hassle, to say the least, and the back panels are still too short to this day. The cabinet works fine and it's never fallen apart despite the carelessness that can happen during military moves. Obviously, a lot can change in 5 years, so the company may have fixed this, but I just wanted to make you aware of the issue.
Non skid lining:
Con-Tact Grip Premium Drawer Liner, $9.99 (Target, not affiliated)
White Plastic Labels:
DYMO LT Plastic Labels for LetraTag Label Makers, $4.24**
Label Maker:
DYMO LetraTag 100H Handheld Label Maker, $17.88**
---
Large Cabinet Set Up (Ikea Havsta – 31 7/8 x 14 5/8 x 52 3/4)
Large White Cabinet (31 7/8 x 14 5/8 x 52 3/4 ):
Ikea Havsta cabinet with base, white, $205 (not affiliated)
So as I mentioned pictured above are those Container Store Landscape Acrylic Paper Drawers (not affiliated). This is where I keep my current makeup, although, this isn't everything I own at the moment, just what was in the drawers when I took this photo. I also still have the InterDesign Rain Clear Cosmetic Trio Cups (Amazon, not affiliated) from the first bathroom setup above that I use to store my brushes so they can stand upright. The drawers from The Container Store are sturdy so I feel like I can fill them to the brim without worrying it will be too heavy. I typically have a lot more packed up in these drawers, but I was doing some reorganizing so a good number of items are not in them right now. The drawers have rubber feet that make them stack easily.
I do use the non-skid lining that I mentioned before for lipsticks and concealers that are more annoying when they roll around. For the rest, I leave them unlined because things fit closer and smoosh together easier without the grip of the lining. I do understand that this particular example isn't necessarily affordable when you have 6 of these drawers, but for those with a small number of items one or two of these drawers may very well be sufficient. I've come to like keeping items in a cabinet so they can be organized but out of sight. It also allows me to sit in front of the cabinet and see everything at once when I'm planning blog posts or when I want to pick things out for a monthly or weekly makeup bag.
I hope this gives you some inspiration on some ways you can organize your makeup. Like a lot of people, I bought an IKEA Alex 5- Drawer because it was always raved about but I could never organize it in a way that I liked. Now, my husband uses it as part of his desk and it works fine for that. I wish I had listened more to the complaints about not being able to access the entire drawer because they don't fully extend out. However, I think my main issue with the Alex drawers was not being able to access everything at the same time. If you like how the IKEA drawers look and function, I am by no means saying there is anything wrong with them. They just didn't work out for me and I had trouble finding alternative ideas. So just wanted to share what I came across in looking for better solutions for myself.
---
I hope you found this helpful or at least found it entertaining to take a peek at how I store things. Thanks for reading!
---
If you enjoyed this post, please give it a like down below. If you'd like to check out more of my content, here are some places to start.
Brands A-Z: Check out this index if you want to know what products I have posted about in the past.
MAC Cosmetics: I likely have some swatches you've been searching for if you love Mac as much as I do.
The Wanderlust List: Join me as I search for alternatives to new releases.
Disclaimer: I purchased all products featured with my own money. This site receives a minimal commission from participating in the WordAds program and using affiliate links. For my full disclosure policy, click here.