This blog uses affiliate links (marked with **). When you purchase through links on my site, I may earn a small commission. Learn more here.
**
If you are a Sephora VIB Rouge, I would pass on this sale and wait for the VIB Sale that starts on April 1st. The VIB Rouge members will get 20% off during the Sephora sale. Unless of course Macy's carries a product that is not available at Sephora. Nordstrom is price matching the Macy's sale (if they carry the same item) so if you prefer Nordstrom, you can also shop through them. Now let's get into a couple of recommendations.
You know me, I like to give recommendations that I don't hear a lot of talk about. Today I want to talk about a blush and a highlighter. Liberte is one NARS blush that I rarely hear about anyone using. They did include the shade in the limited edition Afterglow blush palette, so maybe it will start to gain some traction. MAC Lightscapade is a highlighter that used to get a lot of buzz and that has definitely died down. I'd imagine that this particular shade of the mineralize skinfinish line is still popular for those with lighter skin tones.
NARS Liberte is described as a burnished apricot
In my experience, NARS blushes apply smoother with natural hair brushes. Since I started using natural hair with them my love for the formula has grown. I haven't heard other people that agree with this. Most people are in love with NARS blush, no matter the tool. So if you are someone that uses synthetic brushes, you'll likely be just fine.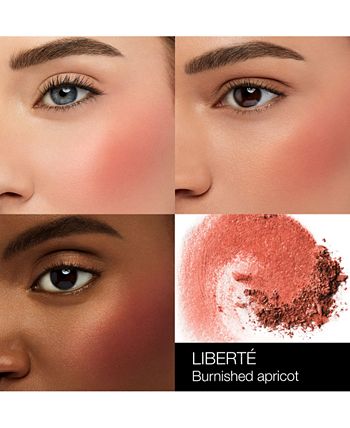 **
MAC Flirting With Danger (left swatch) vs Nars Liberte (right swatch)
NARS Liberte looks like a lot of other shades until you actually compare them side by side. It reminds me of both MAC Flirting With Danger and Burnt Pepper but it isn't quite like either of them. Flirting With Danger is darker and more red while Liberte has more of a pinkish-orange tone to it. Unfortunately, I don't own burnt pepper anymore to show it next to it, but since I've owned them at the same time in the past, I can tell you that burnt pepper is pinker than Liberte.
MAC Mineralize Skinfinish in Lightscapade $38.00 ($32.30 during sale)
MAC Lightscapade is described as a soft candlelit beige with multidimensional shimmer
Ok so I knew getting this shade to work for my skin tone was a long shot, but I had to have the limited edition packaging (Petal Power 2020 Collection). Lighstcapade is a permanent shade in the MAC lineup, so if you buy it now it will be in the classic black packaging.
Much to my surprise, I am able to use this shade with 1 VERY light layer. If I add a second layer it starts to look pink and a little icy. It is honestly not as terrible as I was expecting. The formula doesn't accentuate texture, which has been my experience with the mineralize skinfinish formula in other shades as well. You can see in the image below that a light layer sheered out almost disappears on me, but you can see that slight ashen cast (well at least I can lol).
Speaking of the other mineralize skinfinishes, in comparison to the other shades I've tried (cheeky bronze, global glow, nude nuance – LE, highlight the truth – LE), lightscapade has less shimmer. MAC claims that you can "blend all over for a sheer luminous polish to the skin" with this formula. Now I would not recommend doing this with the other shades, but if you are lighter than me, I think you can absolutely do that with Lighscapade. I did try to wear it this way and again with 1 very light layer, it does look nice.
MAC Superb (left swatch) and MAC Lightscapade (right swatch)
Superb is part of MAC's Extra Dimension highlighter line, which I also enjoy. As you can see it has more shine and catches more light.
As I mentioned, I do enjoy the mineralize skinfinish line of highlighters. So while Lightscapade isn't right for my skin tone, I would recommend it and any of the other shades. The formula of shades like cheeky bronze and global glow is looser and looks sparkly in the pan, but I've never felt like they look glittery or chunky when applied. I do prefer products that are less messy, but I continue to love this formula anyway. If you like a firmer pressed highlight, the baked gelee formula of the extra dimension highlighters might be preferable. Just keep in mind that even with the other shades having more shine than Lightscapade, the extra dimension formula has more impact.
Use Code OWNIT at Checkout. Exclusions Apply. Valid: 3/25-4/3.
**
---
If you'd like to check out more of my content, here are some places to start.
Brands A-Z: Check out this index if you want to know what products I have posted about in the past.
MAC Cosmetics: I likely have some swatches you've been searching for if you love Mac as much as I do.
Shop My Stash: Join me as I share swatches of my products and occasionally search for alternatives to new releases.
Disclaimer: I purchased all products featured with my own money. This site receives a minimal commission from participating in the WordAds program and using affiliate links. For my full disclosure policy, click here.