Ulta's 21 Days of Beauty is well underway at this point, so I won't go too much into that. But, if you by chance have never heard of the sale, during the sale you can get select high end beauty products for 50% off. Since it will be $18.00 on March 31, 2022, I wanted to share my experience with the MAC Studio Radiance Face and Body Foundation.
I honestly have had a hard time getting my thoughts together on this foundation. It is so well loved that I really wanted to love it too. I guess it is not so much that I don't like the product as much as it doesn't suit my preferences. There has been some debate on whether or not this shade expansion is also a reformulation. The brand has stated that this formula is the same as the original Face and Body. I did try Face and Body back in 2014, and regardless of a change in formula, I didn't like that one either. Since it was so long ago, I can't directly compare them, but my thoughts are the same on both. This formula is so sheer, I don't understand the point of taking the time to put it on.
This blog uses affiliate links (marked with **). When you purchase through links on my site, I may earn a small commission. Learn more here.
When I hear people talk about the MAC Face and Body Foundation**, the phrase "skin-like" always comes up, and I can absolutely agree on that point. When I apply this with a brush I get the promised radiant finish and it does, in fact, look like skin. The problem for me is that I just want more coverage. When building the coverage, I get a light coverage at best. The brand claims this is a sheer buildable formula, so I can't say that it doesn't perform as intended. I did try applying this formula with my hands as is commonly suggested for more coverage. This didn't work for me at all. Oddly enough, using fingers resulted in the formula setting to a matte finish on me. I do have dry skin, but other than that, I can't explain it. 🤷🏽‍♀️
Another downside for some may be the scent. The formula doesn't technically contain fragrance, but it does have some essential oil ingredients (Fusanus Spicatus Wood Oil, Citrus Aurantium Dulcis (orange) Peel Oil, Farnesol). This does give it a slight scent, but I find it more noticeable when I apply it with a brush than my fingers. I did not notice the scent throughout wear.
What I do like about the formula is that although it is radiant it doesn't accentuate texture. I didn't need to set this with powder and all of my powder products still blended fine. I also like that it has very minimal transfer. Lastly, for such light coverage, it does hold that coverage throughout wear. If you are someone that likes sheer to light coverage, I can understand why this would be a great find.
C5 is described as a peachy beige with a neutral golden undertone for medium skin.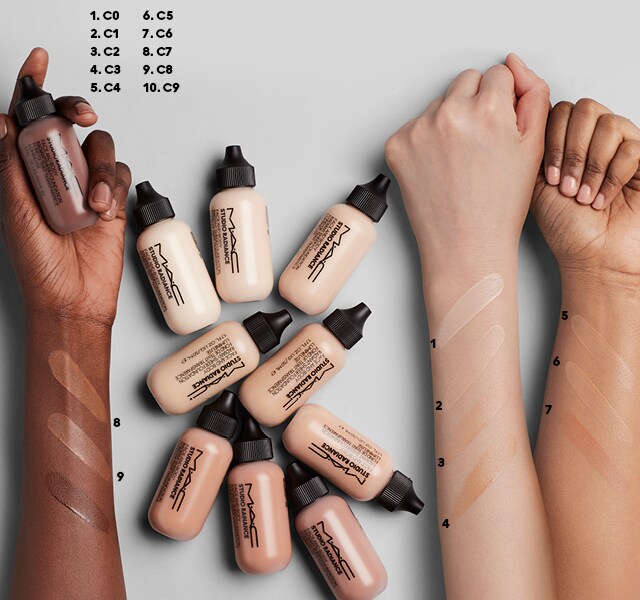 Photo courtesy of MAC Cosmetics**
Comparison Swatch with Estee Lauder Double Wear 4W4
Obviously, these are totally different types of foundation, but it is the shade I have that is most comparable.
The MAC Studio Radiance Face and Body Foundation comes in 30 shades and normally retails for $36.00. If you are hoping to buy this foundation for $18.00, remember, that deal is only available at Ulta on March 31, 2022.**
---
If you enjoyed this post, please give it a like down below. If you'd like to check out more of my content, here are some places to start.
Brands A-Z: Check out this index if you want to know what products I have posted about in the past.
MAC Cosmetics: I likely have some swatches you've been searching for if you love Mac as much as I do.
Shop My Stash: Join me as I share swatches of my products and occasionally search for alternatives to new releases.
Disclaimer: I purchased all products featured with my own money. This site receives a minimal commission from participating in the WordAds program and using affiliate links. For my full disclosure policy, click here.