As always credit for this overall concept goes to Emily Noel on Youtube. I originally saw her older videos about What's OLD at the Drugstore. I did this for last year's sale and figured why not turn it into a series. So as the name implies, none of my recommendations are the newest things to the market. The sale dates are 1 April 2022- 11 April 2022 depending on your membership tier.
This blog uses affiliate links (marked with **). When you purchase through links on my site, I may earn a small commission. Learn more here.
This powder has been lurking around since at least as far back as 2016. For years so many people wanted Hourglass to create their ambient lighting powders in skin tone shades. Well, Laura Mercier did just that. The line started out with 6 shades and has been cut down to 3 recently. Shades 1, 3, and 5 are the new permanent lineup, although Sephora currently has shade 2 in stock. While this new range is unfortunate, I hope that more people can discover this great product and the brand can afford to expand the range.
I have dry skin and this is my preferred setting powder but it can also be used as a finishing powder. When using this as a setting powder, I get the longevity and dried down feeling I prefer, but the glow of the powder keeps my skin from looking dry or looking matte. As a finishing powder, I apply this if a foundation is accentuating my texture. I find that layering this on top improves the look of things and makes the texture appear smoother. Laura Mercier claims that this powder has a "diffused, soft-focus finish" and I guess that is the benefit that helps with the look of texture.
This powder is designed to catch the light, so keep that in mind when you are considering the shades. Shade 4 (now discontinued) is the best shade for my skin tone (Estee Lauder 4W4/5W1, MAC C8, NARS Tahoe) and shade 5 (featured here) is a little dark for me. I mainly use shade 5 when I have a foundation that is a little too light for me. I do know that shade 5 works for people who can wear NARS Macao, MAC NW43, MAC NC47, Lancome 460, Fenty 385, and Fenty 390. This isn't to say it won't work for any other deeper or lighter skin tones, this will just hopefully give a reference point.
The Laura Mercier Candleglow powder in shade 5 is the swatch on the left. It is compared to the now discontinued MAC Studio Waterweight Powder, and the NARS Light Reflecting Powder which is still available for sale, although not in this shade. If you want to know more about the NARS powder in the translucent shade, I have a full review posted here.
The Laura Mercier Candleglow Sheer Perfecting Powder is $39.00** and comes in 3 shades: 1 – fair, 3 – light to medium, and 5 – medium to deep. Shade 2 – light is currently in stock, but has been discontinued so get it while you can.
---
I knew NARS was a reliable brand for me, but lately, as I try to be more intentional about shopping my stash, I've noticed that they are definitely a top favorite. So I apologize for the redundancy since I just talked about the NARS blush in Liberte the other day.
So anyway lol, NARS Torrid is described as a warm coral with golden shimmer
Truly a NARS classic, the reviews for this blush (on makeupalley.com) go back 19 years. Torrid is a beautiful shade that isn't talked about much. My skin really brings out the pink in this coral shade, which is why it's not my favorite. I've seen this shade lean more orange on some skin tones, so you may want to try and check this one out from some other people as well. The shade aside, the NARS blush formula is a solid one and a little goes a long way, so they last forever.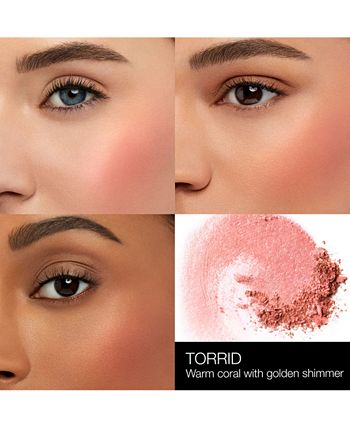 NARS Powder Blush is $30.00 and is available at Sephora in 25 shades.**
---
This one might be cheating just a little, it was released in April of 2021. So while it's not super old, it's not a new release. In this post, I'm only sharing closeups of the shade Sweet Cheeks because it is new to me. I've already done a dedicated post for the shade Money Maker (check that out here) if you want closeups of that shade. Long story short, I love this formula. The Huda Beauty cream lipstick is medium coverage, comfortable to wear, and moisturizing. It does need to be reapplied after about 4 hours, but that is a typical wear time for me with cream lipsticks.
The only complaint I have with the formula is that I like to apply lip liner after lipstick, and these don't blend into the liner very well with that method. If I apply lip liner first, I don't have an issue. MAC lip liners work better than other formulas when applied on top, but it still isn't the best.
I try to give you a point of reference when I can, but I honestly can't give you a comparable formula in the same price range. The formula from Propa Beauty comes closest and those retail for $12.00 (check out swatches here). So if you like the look of any Propa Beauty shades, that is a better value with similar results. Both of these formulas do have a nourishing quality in common. I always feel like my lips are in better condition after I wear them.
Based on other formulas I've tried over the years, this is a really great value. They do have a faint fragrance that I don't notice after application. I can't promise they'll be as nourishing for everyone as they are for me, but I do think they will at least be moisturizing for most people. If you are looking for a comfortable lipstick with a nice shine, I would highly recommend these.
The Huda Beauty Power Bullet Cream Glow Hydrating Lipstick retails for $25.00 and comes in 14 shades.**
---
If you want even more ideas you can check out my post from last year, by clicking here and my Sephora Friends and Family Sale Haul by clicking here. Or of course, you can just browse my website. I do have an index of all my posts that you can check out by clicking here.
1 April 2022 – 11 April 2022 – VIB Rouge tier can shop
5 April 2022 – 11 April 2022 – VIB tier can shop
7 April 2022 – 11 April 2022 – Insider tier can shop
---
I hope this post was helpful and gave you some new products to consider. Happy Shopping!
---
If you enjoyed this post, please give it a like down below. If you'd like to check out more of my content, click here for the best place to start.
Disclaimer: I purchased all products featured with my own money. This site receives a minimal commission from participating in the WordAds program and using affiliate links. For my full disclosure policy, click here.