Estee Lauder has been relaunching many of its legacy products into sleeker blue compacts. The Double Wear Matte Powder Foundation is the newest product to get the treatment.
This blog uses affiliate links (marked with **). When you purchase through links on my site, I may earn a small commission. Learn more here.
Estee Lauder Double Wear Stay-in-Place Matte Powder Foundation, $46**
The new compact is refillable and has gone up in price to $46.00 (up from $43.00). The refills retail for $35.00.** The formula has remained the exact same and you get the same amount of product, this is purely a packaging update. The new shade range however did shrink by 10 shades. As usual, my go-to shade (4W4) has been axed from the lineup. They do still have the shade 5W1 which I can also get away with, so I'll show you that shade in this post. There are still 31 shades in the range which is still decent. Since this is a relaunch, they have the sales data from the last lineup to know which shades are selling. Not much comfort for those of use that may need to pick a new shade, but that's the way it goes.
Discontinued shades: One shade had been discontinued sometime before January 2022 so in total there are 11 shades that are not in this new range that did exist at some point.
7C1 Rich Mahogany
6N2 Truffle
5W1.5 Cinnamon
5N1.5 Maple
5C1 Rich Chestnut
4W4 Hazel
4N3 Maple Sugar
3W2 Cashew
3C1 Dusk
1W0 Warm Porcelain
1N0 Porcelian
If you've been following my blog for a while, you may have seen my review of this powder back in January. If you have, then the rest of this post will be a repeat of a review you've already read. I just wanted to give you that heads up.
Estee Lauder Double Wear Stay in Place Matte Powder Foundation Refill, $35.00**
Estee Lauder claims that this powder is soft and weightless, and I definitely agree. It feels like I have nothing on when I wear it alone as a powder foundation. That does translate to less coverage than some people might be looking for given the Double Wear name. This powder was designed to be a buildable multi-use powder, so it does start off as light coverage. Not a lot of powder picks up on the brush, which helps it function well as a setting powder. Getting into the buildable claim, it does build on itself with no issue. You can achieve a medium coverage if you apply it with a brush and apply two layers. If you use the included sponge you can get more coverage, but I don't think it ever quite gets to the full coverage that the brand claims. The sponge also applies the product heavier, so just one layer gives me medium coverage. A second layer with the sponge does improve the coverage a little, but some of my scars still peak through. But again, it looks heavy applied with the sponge and accentuates texture on me.
Estee Lauder Double Wear Powder 5W1 Bronze Swatch
5W1 Bronze is described as deep with warm golden undertones.
As promised, this is a matte product but not overly matte unless you have dry skin like I do. It doesn't cling to dry spots or texture on initial application but it does look a little powdery. A couple of minutes after application it does settle in and look less dry, but it is definitely still matte. As it wears throughout the day it does start to look drier and my skin texture (especially in drier areas) becomes more apparent. Using the Charlotte Tilbury Hollywood Flawless Filter ($44.00)** underneath this when worn as a foundation does help with the dryness. On the downside, it sacrifices the perfected look of the matte finish. It doesn't look bad, but if you like a matte finish for the benefit of minimizing the look of imperfections, the pairing may disappoint you.
The Estee Lauder Double Wear Stay in Place Powder Foundation** comes in 31 shades and contains 12 grams of product. To put that in perspective the MAC Studio Fix Powder Foundation has 15 grams and retails for $36.00** (click here for swatches). I make that comparison specifically because it is a better powder foundation than the Estee Lauder Double Wear Powder. If you want an actual powder foundation, not only does the MAC powder give more coverage but it also takes less product to get that coverage. Overall, it is a better value for money and it comes in 53 shades.
On the other hand, if you are looking for a setting powder in a skin tone shade, I think this could be a nice option. I don't notice it being overly drying when applied lightly over my liquid foundations. One thing to keep in mind though is that it is matte. It will mattify the finish of any foundation you wear it with. So if you want a satin or dewy finish, then I'd look elsewhere.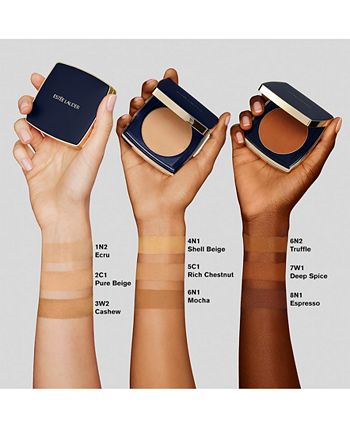 **
I'm honestly not really sure why the brand decided to group this under the Double Wear branding. While it does last well throughout the day, it is by no means as budge-proof as the Double Wear Liquid Foundation. In my opinion, the Double Wear Matte Powder Foundation is best for normal to oily skin types. While I can get away with it on my dry skin, as the day goes on and it continues to absorb oil it starts to emphasize dryness and texture. If you are looking for a matte, full-coverage powder foundation, I would recommend looking into the MAC Studio Fix Powder Foundation instead. I do think this is a nice powder, I just don't think it is truly full coverage. If you have scars or dark marks to cover, I personally don't think it'll be enough.
So far I've seen the new packaging available at Ulta, Macy's, Neiman Marcus and Bergdorf Goodman.** If you don't care about the new packaging, there are still some shades in the old compact available for 40% off ($25.80) on the Estee lauder website.**
---
If you'd like to check out more of my content, here are some places to start.
Brands A-Z: Check out this index if you want to know what products I have posted about in the past.
MAC Cosmetics: I likely have some swatches you've been searching for if you love Mac as much as I do.
Shop My Stash: Join me as I share swatches of my products and occasionally search for alternatives to new releases.
Disclaimer: I purchased all products featured with my own money. This site receives a minimal commission from participating in the WordAds program and using affiliate links. For my full disclosure policy, click here.