I've been wearing this foundation since 2014 and I have always found it challenging to find information specific to dry/sensitive skin and see swatches of the shades. So I wanted to update my thoughts on the Estee Lauder Double Wear foundation here on this blog.
WHAT SHADE DO I WEAR?
Update September 4, 2021: I've started to wear the shade 4W4 Hazel, you can see it applied (and a swatch) by clicking this link.
Depending on the time of year I go back and forth between shades 5W1 Bronze and 5W2 Rich Caramel. Sometime in 2019, Estee Lauder began releasing new shades and they created 5W1.5 Cinnamon. Since it seemed to fall in between my shades I was hoping I'd be able to use that shade and get away with it all year long. I was disappointed to find out that 5W1.5 cinnamon actually reads darker on me than shade 5W2 Rich Caramel, but it also looks less orange. I am pretty sure that means the undertone of 5W1.5 is better for me, but I have to use 5W1 in the center of my face otherwise I look darker than my body. I think I can get away with it alone, but I feel like I look more like myself only using 5W1.5 on the perimeter of my face. The brand has since added even more shades bringing the total number of shades to 56. So it will still be challenging, but it is a great shade range that likely has something for most people.
WHAT IS THE FINISH, COVERAGE, AND WEAR TIME?
This foundation has a matte finish and is very long-wearing on me. It does have a reputation for being long-wearing across skin types, but there are always exceptions so keep that I have dry skin. I do not believe that it is suitable for my dry skin without some manipulation. Despite the matte finish, the minimal if any transfer is unmatched in my experience. The only other foundation I've used that I felt was transfer-proof was the now discontinued Covergirl Queen 3 in 1 foundation. I personally prefer to prep my skin as needed in order to benefit from the transfer proof nature of the foundation. This starts off looking a little dry, but after about an hour it starts to look better (still matte, but not dry) and it keeps looking that way until I remove it.
Estee Lauder Double Wear is a medium coverage foundation that can be built up to full coverage. If you apply 1 light layer, you will get medium coverage. Even if you want full coverage, I would still suggest applying this in light layers and only building coverage where you need it. Since the formula is matte it dries quicker than a luminous or satin foundation so you want to work quickly or in sections. You can mix this formula with moisturizer or a primer to make it a sheer to light coverage, but this can darken the color of the foundation so I would test it out before you decide to use it that way.
SKIN PREP AND APPLICATION
So since I do have dry skin, I use a heavy oil-based moisturizer every day. Shortly before applying this foundation I also apply a glycerin heavy serum or primer and I do believe that contributes to the foundation wearing well on me. Any time my skin is drier I also mix the foundation with a little moisturizer before applying. In my experience, this does not affect the wear at all. I used to apply this foundation with a beauty blender as a rule, but more recently I've found some foundation brushes that work well for me. The only one of those I discovered that I use with this foundation is the Sigma F80 air Kabuki brush.
This is more than some people would do to make a foundation work, but it is very rare for a foundation to look good on my skin without these steps. I personally have to prep my skin with the serum or primer with most foundations even if they aren't matte, so the added benefit of being transfer-proof is more worth it than some other formulas for me. I have never experienced any breakouts when using this foundation.
This blog uses affiliate links (marked with **). When you purchase through links on my site, I may earn a small commission. Learn more here.
MAKEUP REMOVER ADVICE & RECOMMENDATIONS
Not many people talk about how difficult this foundation is to remove from the skin, so I wanted to mention it. I typically use a balm or an oil-based remover to break the foundation down and still cleanse twice after that. Keep in mind that I have dry sensitive skin, so I use very mild cleansers, which may be the cause for needing to triple cleanse. If you have normal or oily skin, I'd say a double cleanse will still be necessary for you. Searching around for others having this problem, the Clinique Take the Day Off Cleansing Oil was recommended. I did find it to work, but I personally preferred the cleansing balm version. Estee Lauder does have cleanser options for removing long-wear makeup. The Take it Away Makeup Remover Lotion is $31.00** and the Take it Away Gentle Eye and Lip Longwear Makeup Remover is $22.00.** I'm sure that would work best on their own foundation, but they contain fragrance, which I try to avoid. Also, keep in mind that if any foundation breaks you out, one of the first considerations you may want to research is that you didn't remove all of it from your skin. The downside of this for me is that I try not to wear this too many times in a row because washing my face that much daily would not be a good call.
WHY DOESN'T IT HAVE A PUMP?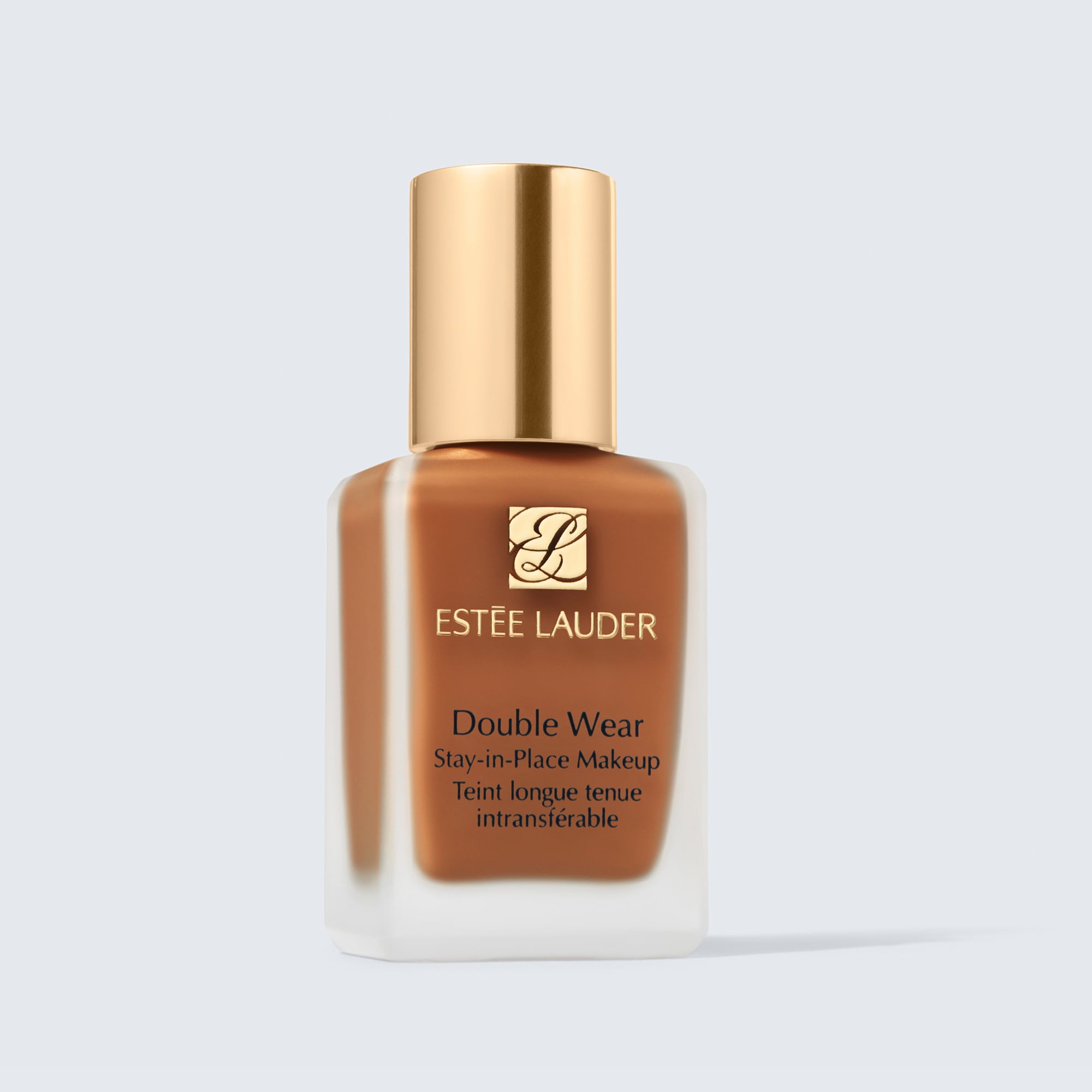 Estee Lauder Double Wear Foundation – 4W4 Hazel**
Estee Lauder does now sell a pump for this foundation**, but you have to purchase it separately. The MAC Cosmetics pump will also fit on the Double Wear bottle. I originally wished that it came with one included in the price. However, after using this product for so long, I'm over the pump issue. The product is excellent and I think that the formula is sold without a pump because it is somewhat thick. Even if it hasn't been that long since I last used it, sometimes the pump would get clogged with product. I also think the bottle itself looks more elegant with its original gold cap. That is of course up to personal preference. The foundation is also high coverage, so applying a small amount at a time helps control that if you want a lighter coverage on some days. So for example, if you put your finger over the bottle and tip it upside down to get product, you can go little by little. That method also helps prevent your foundation from looking heavy and caked on.
HOW CAN YOU FIND YOUR SHADE?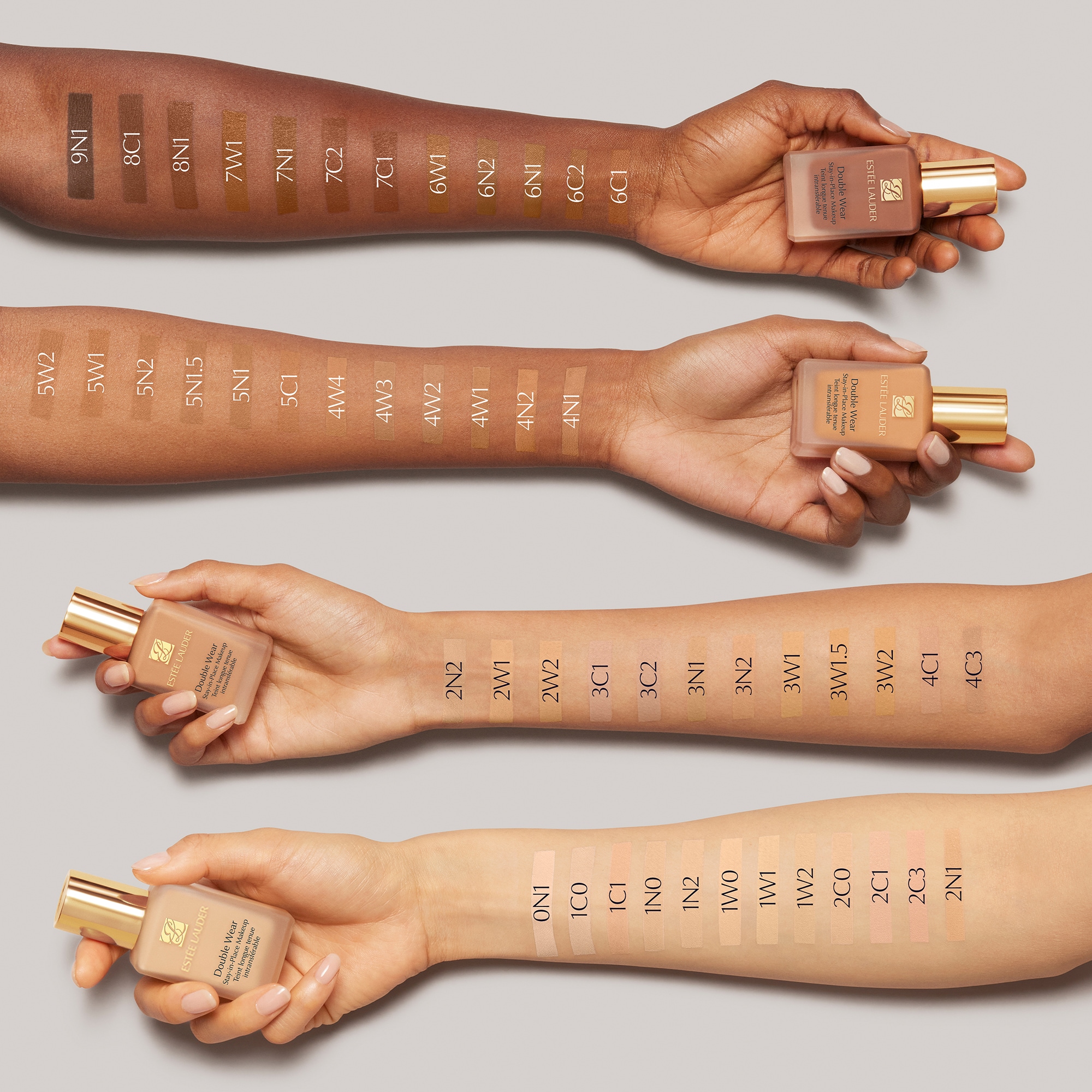 Estee Lauder Double Wear Foundation Swatches**
The Estee Lauder Double Wear Foundation** range has cool, neutral, and warm undertones and varying degrees of tones within each level of depth of color.  For example, the three shades I have swatched for you above are in the same level of depth but with varying degrees of warmth.  I also feel like once the foundation dries down it appears different as well (as do many foundations especially if they are a matte finish), so save yourself some time and heartache and go to a counter to get matched if and when circumstances permit that.  If you do give it a try on your own, make sure you give it time to dry down and set before deciding on the color.  Estee Lauder does have a chat function where you can talk to them and send them a picture of yourself and they will help shade match you.  They also have an application on the website that you can use if you are on a mobile device and you can try on the shades using your camera.  The Estee Lauder website also has a chart of actual models wearing each foundation shade, so you can find the model that looks closest to you and give that shade a try.
Estee Lauder Double Wear retails for $48.00 and comes in 56 shades (as of July 2022).**
---
Have you tried double wear out? Share your shade, skin type, and how it works for you in the comments section below.
---
If you enjoyed this post, please give it a like down below. If you'd like to check out more of my content, here are some places to start.
Brands A-Z: Check out this index if you want to know what products I have posted about in the past.
MAC Cosmetics: I likely have some swatches you've been searching for if you love Mac as much as I do.
The Wanderlust List: Join me as I search for alternatives to new releases.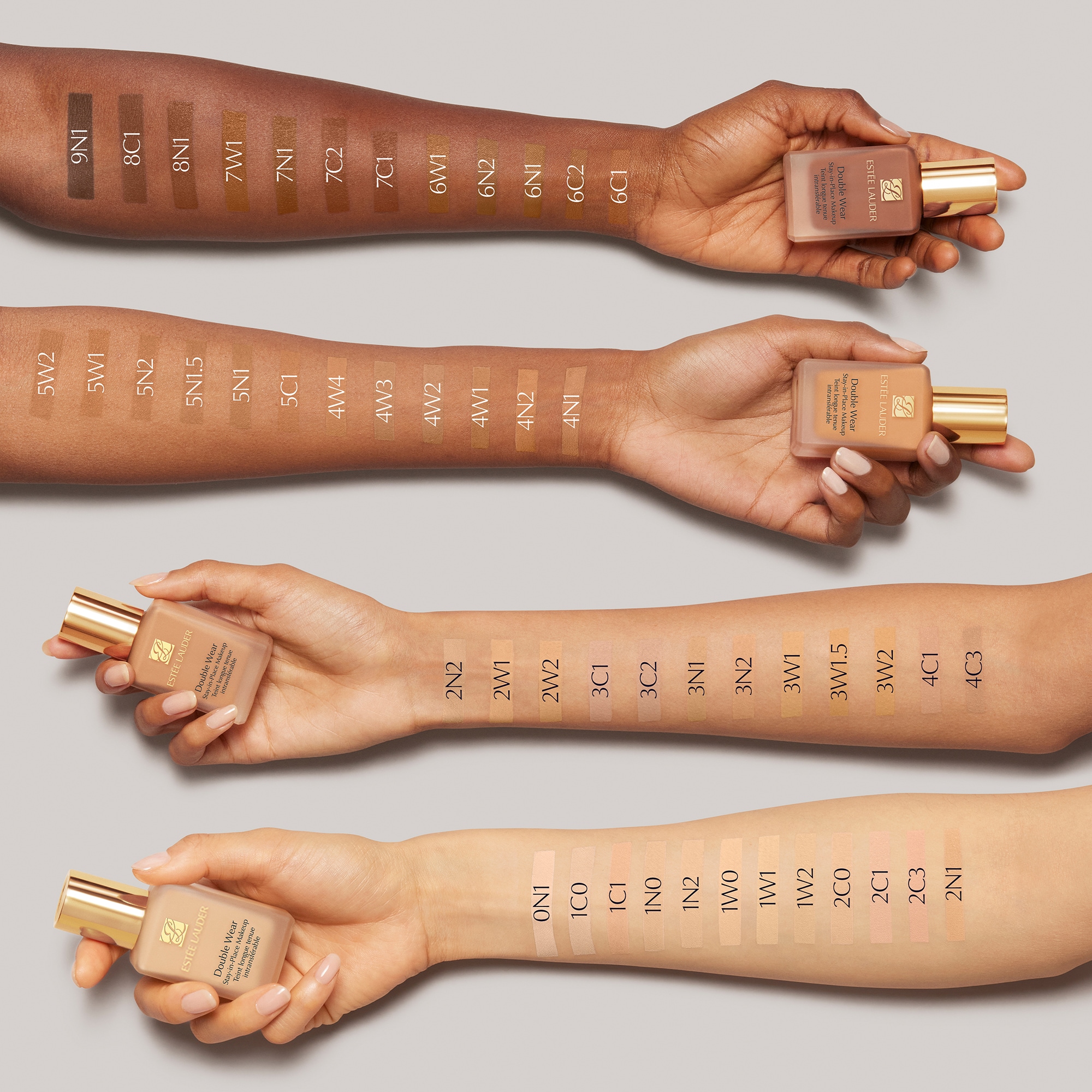 Free Shipping & Free Returns – Every Order @ EsteeLauder.com**
Disclaimer: I purchased all products featured with my own money. This site receives a minimal commission from participating in the WordAds program and using affiliate links. For my full disclosure policy, click here.