We're getting back to MAC today! This concealer is one that I have a love/hate relationship with and wish it worked better for me. I think it is a good formula but I also wish that it looked a bit more hydrated on me. In fairness, the Studio Fix 24-Hour Concealer is a natural matte finish, but I like to use matte concealers because it means I can typically skip setting powder. In fact, I can skip setting this with powder and it doesn't compromise the wear.
While I agree with most of the claims on this concealer, one issue is that I don't agree that it can be built to full coverage. It dries very fast and once it sets, adding any additional product on top causes it to lift and become patchy. So the best result I've been able to get is starting with as much product as I think I'll need and blending with my fingers. The dry down is more manageable with finger application but even then, this doesn't give me full coverage. If you don't have dark circles or dark hyperpigmentation, you may find that this method gives you full coverage. However, for me, I really feel like I need a second layer and this formula just doesn't layer well enough to do that.
Some claims for the MAC Studio Fix 24-Hour Smooth Wear Concealer that I can get behind are that it's transfer and sweat resistant, non-settling, and doesn't cause acne. Once this sets, it does not move or fade and it doesn't settle into my wrinkles and fine lines. I do have dry skin and if I am not prepped well or it is a particularly cold day, this will dry out and separate on me. But that is a dry skin issue and I do not have that problem on days when I'm experiencing less dryness. As I already mentioned, this formula can look dry on me but that is totally normal for my skin type. I find that it looks less dry when I pick it up on a brush and buff the formula into my skin, but that method also gives the least coverage I've gotten from this concealer.
A lot of people experience breakouts that they attribute to MAC products so they have started stating this in their claims. I have not had any breakouts while using this formula but MAC products don't tend to break me out. The MAC Studio Fix 24-Hour Concealer also smooths the skin giving almost a blurred look, although I think MAC Pro Longwear is even more forgiving to texture. This and the NARS Soft Matte Complete Concealer are the only concealers I feel make my under-eye area look less sunken/hollow. I assume that has a lot to do with the finish, but it could also be the colors, so I'm not sure if everyone will experience that. I'm not sure about the waterproof claim, but sweating doesn't break it down or cause it to move around so it could be.
Swatches MAC Studio Fix 24-Hour Smooth Wear NC43 and NC45
This blog uses affiliate links (marked with **).  I may earn a small commission when you purchase through links on my site.  Learn more here.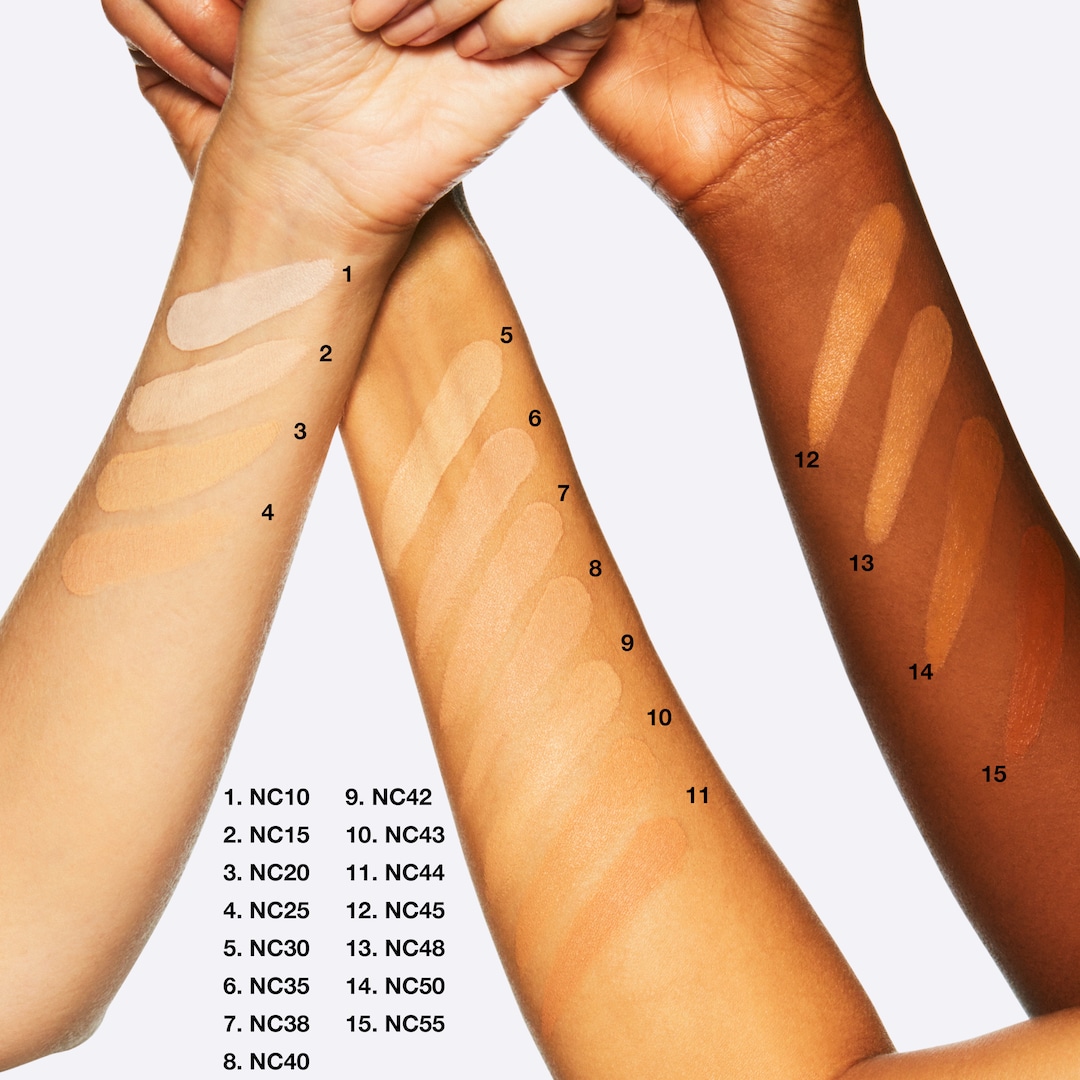 MAC Studio Fix 24-Hour Smooth Wear Concealer NC (warm) Swatches**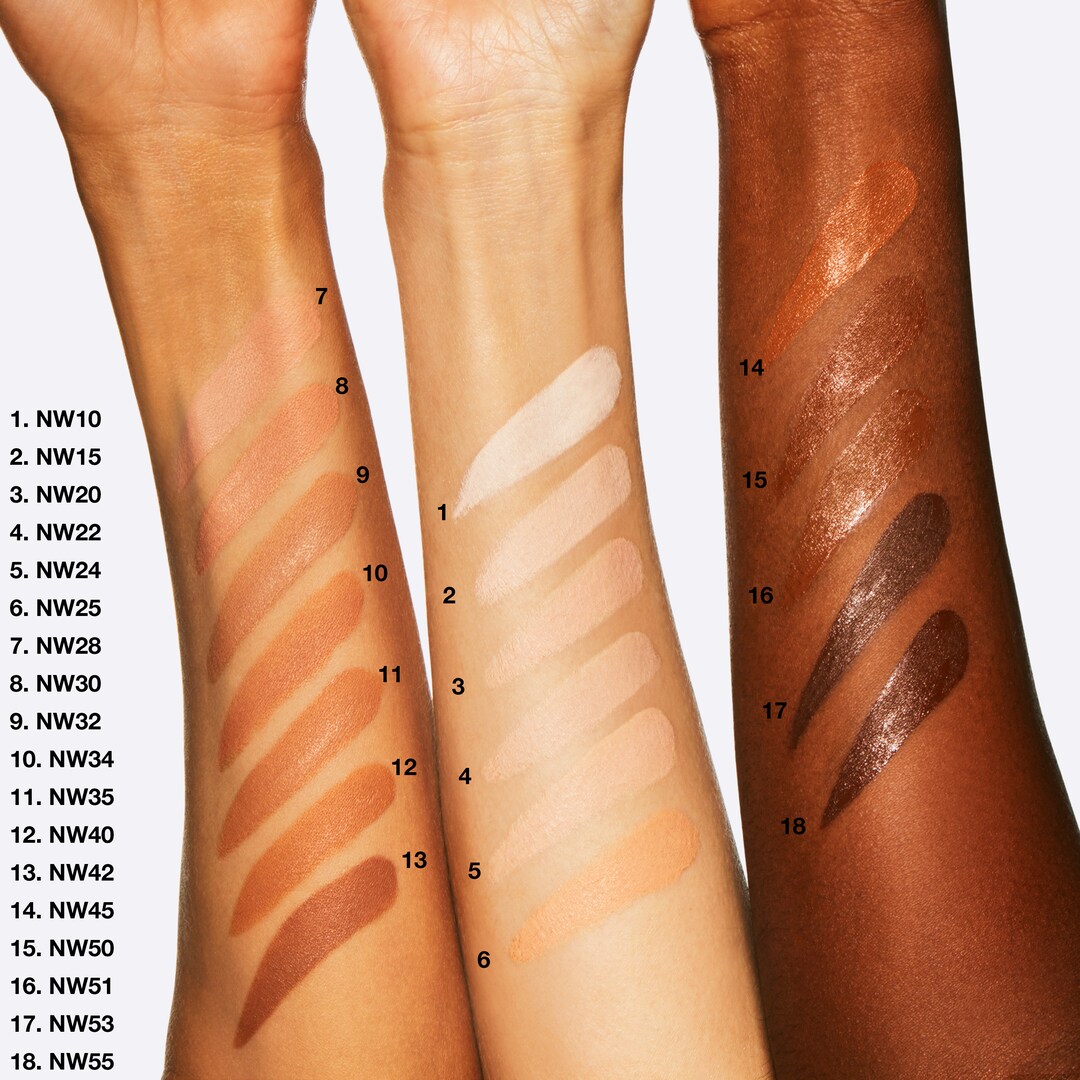 MAC Studio Fix 24-Hour Smooth Wear Concealer NW (cool) Swatches**
Final Thoughts
The Studio Fix 24-Hour Concealer comes in 33 shades and retails for $27 for 7 ML.** While I would say there are better matte concealers on the market in my experience, this isn't necessarily a bad concealer. I wish they offered this shade range in the Pro Longwear Concealer (16 shades) because I prefer that formula. I think the Pro Longwear is more forgiving on texture and building it to full coverage is much easier. Some full-coverage matte concealers that I would recommend over this are the NARS Soft Matte Complete Concealer and Patrick Star One Size Concealer if you have normal, combo, or oily skin. If you have dry skin but still want full coverage, I've been able to use the Pat McGrath Skin Fetish Sublime Perfection Concealer and the Huda Beauty #FauxFilter Luminous Matte Concealer.
---
Thanks for reading!
---
If you enjoyed this post, please give it a like down below. If you'd like to check out more of my content, here are some places to start.
Brands A-Z: Check out this index if you want to know what products I have posted about in the past.
MAC Cosmetics: I likely have some swatches you've been searching for if you love Mac as much as I do.
The Wanderlust List: Join me as I search for alternatives to new releases.
Disclaimer: I purchased all products featured with my own money. This site receives a minimal commission from participating in the WordAds program and using affiliate links. For my full disclosure policy, click here.