If you follow the beauty industry closely, then you know that new releases are happening all the time. So let's discuss what new products are on my radar right now.
---
I stopped posting these over a year and a half back. It's hard to believe it's been that long. When I noticed that these posts were becoming more of a shopping list rather than just window shopping, I decided to take a break. But I wanted to give it another try to see if it can be an outlet to talk about makeup without buying so much of it. We'll see how it goes.
This blog uses affiliate links (marked with **). When you purchase through links on my site, I may earn a small commission. Learn more here.
KVD Beauty Good Apple Lightweight Full-Coverage Concealer Tan 161 0.33 oz/ 10mL**
KVD Good Apple Concealer, $28.00**
: I was so disappointed to find out that I can't use this formula. While alcohol in the formula won't be a deal-breaker for everyone, I don't gamble with it on my dry, sensitive, eczema-prone skin. The alcohol is the fourth ingredient in this concealer, so that is a high enough amount for me to pass on buying. I did go in-store and swatch this so I've included those swatches below for anyone that may still be interested. It is getting very good reviews even from people with dry skin.
---
Covergirl TruBlend So Flushed High Pigment Bronzer, $7.94**
Covergirl TruBlend So Flushed High Pigment Bronzer, $7.94**: UPDATE July 17, 2022: I did end up purchasing these, if you'd like to read my review, you can find that by clicking here. Covergirl has resurrected the ever popular Covergirl Queen ebony bronzer under their Trublend line. It is not the same formula so there is a bit of a shade difference but it brings back an offering for deep skin tones that the new line desperately needed. I am happy to see a relaunch of the bronzer, but I also wish they had renamed the shade. Since it is different there will be some disappointment for those that buy the shade simply because it is called ebony. Instead of relying on name recognition, I wish they had used a marketing/PR blitz to let people know there are now darker bronzer colors available. They also added the shade warmth, which I'd assume is an alternative to the brown bronze shade that used to exist in the Covergirl Queen line. If you've had the opportunity to give these a try, let us know how they worked out for you. Shout out to my husband for helping me get a clear picture while we were at Walmart 🥰.
---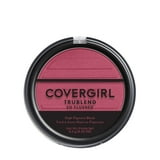 Covergirl TruBlend So Flushed High Pigment Blush, $7.94**
Covergirl TruBlend So Flushed High Pigment Blush, $7.94**: Covergirl released two new shades in the Trublend blush range as well. I'm happy to see this shade expansion. I am a big fan of the shade sweet seduction as you may know if you've been around for a while. I hope the formula of the new shades is like the shade I have. 300 Coral Crush brings some warmth to the lighter end of the shade range and 380 temptation brings a cooler tone to the deeper end of the range. If you want more information on the shade sweet seduction I have posted about it a few times:
---
MERIT Signature Lip Lightweight Lipstick Slip 0.10 oz/ 3 g**
Merit Beauty Signature Lip Lightweight Lipstick, $26.00**: This formula is a new launch from Merit Beauty that promises to be a sheer lipstick with a hydrating lip balm feel. The claims really appeal to me and there are some colors I think I'd definitely love. Honestly, the only issue is that I feel like I'm drowning in lip products at the moment. I tend to prefer this type of formula over wearing a lip gloss, but I'm just hesitant to buy any more lip products right now. On top of that, this is a clean formula which typically means a shorter shelf life. Maybe I'll check them out next year if the formula sells well for the brand and it's still around.
---
PATRICK TA Major Beauty Headlines – Double-Take Crème & Powder Blush She's Baked 0.37 oz/ 10.5 g**
Patrick Ta Major Beauty Headlines Double Take Cream and Powder Blush, $34.00**: I can admit that I'm interested in this product purely because it is so hyped up on Youtube. When the initial launch dropped I was intrigued by the reviews but I wasn't drawn to any of the shades. Then recently the brand released more shades (1 new and 3 from the Holiday 2021 palette) and I've been tempted to finally give the formula a try. But if I'm being real with myself, I much prefer single blushes and I don't really like working with cream products. I just prefer powder. So I'd be buying half a product that I don't even want to use.
---
So those are the products that I've been eyeing recently. Let me know in the comments what products have been on your mind lately? They don't have to be new, anything you're excited about is worth sharing.
---
If you enjoyed this post, please consider sticking around and checking out more of my content.
Brands A-Z: Check out this index if you want to know what products I have posted about in the past.
MAC Cosmetics: I likely have some swatches you've been searching for if you love Mac as much as I do.
Shop My Stash: Join me as I share swatches of my products and occasionally search for alternatives to new releases.
Disclaimer: This site receives a minimal commission from participating in the WordAds program and using affiliate links. For my full disclosure policy, click here.