Whether you already use Clinique foundation in your daily makeup routine or have been wanting to try one of their foundations, this is a good sale. I recently reviewed two of their best-selling foundations in my Forgotten Best Sellers: Clinique post. If you are interested in a review of the Beyond Perfecting Foundation + Concealer or the Stay Matte Foundation, you can check that post out.
This blog uses affiliate links (marked with **). When you purchase through links on my site, I may earn a small commission. Learn more here.
Clinique Beyond Perfecting is one of the best full coverage foundations for my dry skin so I have tried several shades over the years. My best match is WN82 Latte for most of the year but WN98 Cream Caramel works a bit better in the summer despite being a little orange on me. As a heads up, I do think the shade WN82 Latte has been discontinued because it is in the last call section on the Clinique website. Pictured below are shades CN90 Sand, WN82 Latte, WN98 Cream Caramel, WN 114 Golden.
I have a sample card of the Beyond Perfecting Foundation, so I have also swatched the shades WN125 Mahogany and WN76 Toasted Wheat below.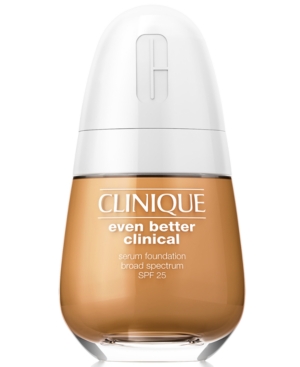 **
I've also heard nothing but good things about Clinique's newest foundation, the Even Better Clinical Serum Foundation. I haven't personally given this a try, but I do have some swatches from a sample card so I was able to swatch shades CN127 Truffle and WN 100 Deep Honey.
**
Clinique Even Better All-Over Concealer, $27.00**

($17.00 during sale)

I've never tried a concealer from Clinique because the shade range on their other options is lacking. However, when they released the Even Better All-Over Concealer they did a much better job. Through the clinique website, the range has 42 shades but it looks like Macy's only carries 40 of the shades for some reason.

$10 Off Clinique Foundations and Concealers. Shop now at Macys.com! Valid 3/2 through 3/8**
---
Have you tried any of the Clinique concealers? I'm curious to know if they are worth checking out.
---
If you'd like to check out more of my content, click here for the best place to start.
Disclaimer: I purchased all products featured with my own money. This site receives a minimal commission from participating in the WordAds program and using affiliate links. For my full disclosure policy, click here.