For some reason, Estee Lauder recently made the decision to reformulate the well-loved Pure Color Envy Lipsticks. The new line of lipsticks is now called the Pure Colore Creme Lipstick but they are still offered in 3 different finishes (creme, hi-lustre, and matte). I'll only be talking about the creme formula today. The Creme lineup comes in 31 shades and retails for $36.00.
A note on the packaging before we get into the formula. I miss the dark blue tube of the old Pure Color Envy Lipstick. This new one is the same size and shape, but all gold. I just don't think it looks as elegant and it is ever so slightly lighter. It still has a magnetic closure which is always a nice touch, but I do think they lightened the weight of the tube a bit.
This blog uses affiliate links (marked with **). I may earn a small commission when you purchase through links on my site. Learn more here.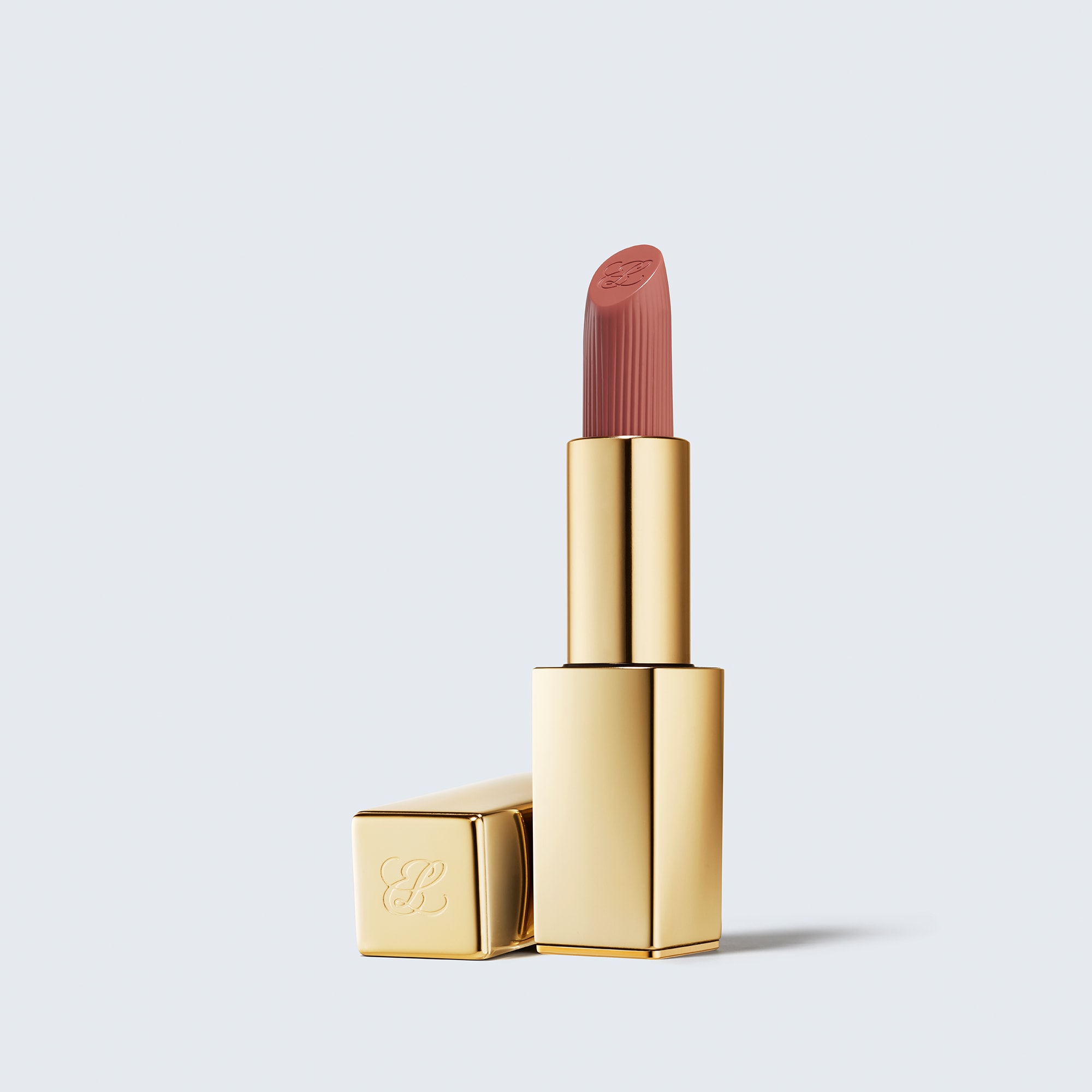 esteelauder.com – Pure Color Creme Lipstick 818 Covetable**
If you've read some of my older lipstick reviews you may recall that the Pure Color Envy formula is my favorite lipstick of all time. Some of my favorite things about the previous formula were the coverage, shine, graceful wear down, and nourishing feel. So does the new formula live up to the old one? Not really. Let's get into the reasons why.
Estee Lauder is clearly advertising a creme lipstick, but it doesn't stay creamy for very long. After about 30 to 45 minutes of wear time it has basically become a satin and gets closer to matte as I wear it. It never looks as flat as a matte or makes my lips look dry, but it just doesn't have the sheen that I like to see (and experienced with the old formula). At least for the shade I have (Covetable), this formula does not have as much coverage as the old formula either. The brand does claim the pure color creme lipstick is medium to full coverage, but I think it maxes out at medium coverage.
The brand says the formula is "long lasting" but they don't make a particular time claim that I've seen. I think it lasts fairly well for a creme lipstick. I can go about 4 hours without needing to touch up and I drink water and tea all day and I don't use a straw. To me, that is a good wear time, but I would expect to get more out of something claiming to be long lasting. I kind of agree with the brand that this formula makes the lips look plump and smooth, but there is a little bit of streakiness if you rub your lips together too much. Despite that, I've never noticed any issue with dryness being accentuated or the formula sinking badly into my lip lines.
In regard to the streakiness, I think part of that is because the formula is thin. I like a thick lipstick formula and a lot of new formulas these days are on the thinner side. When I describe lipstick as thick, I guess what I mean is that I can feel it sitting on my lips and there is some resistance when I rub my lips together. I think there is some self-leveling that you lose when the formula isn't as thick. I'm not even close to being a cosmetic chemist, that is just what I think is the issue. It doesn't ever look bad from a normal viewing distance, but if I get up close in the mirror, the coverage can be thinner in some areas.
One thing this new formula does claim that parallels my experience with the old formula is maintaining moisture on the lips over time. My lips are in better condition after I wear this lipstick and that seems to last for at least a couple of days. I can't say it lasts any longer than that in particular because I switch up my lipsticks too often. I have been using this formula for a little over 3 months, so although I do rotate through my lipsticks often, I have worn it a lot.
Comparison Swatches (Chanel 209 Alter Ego, Estee Lauder 818 Covetable, and Charlotte Tilbury Nude Romance)
These shades are the closest that I own to give you a point of reference for the color of Covetable. The formulas are not similar at all in my opinion unless you are a lipstick-is-lipstick type of person (which is perfectly fine lol).
Ulta – Estee Lauder Pure Color Creme Lipstick – Covetable**
Nordstrom – Estée Lauder Pure Color Creme Lipstick in 818 Covetable**
Final Thoughts
As always, it is possible for the formula to vary from shade to shade. I don't typically find that to happen with the Estee Lauder brand, so I'm inclined to believe this formula is representative of the entire creme finish line. Is the Estee Lauder Pure Color Creme Lipstick a decent formula? Yes. Would I recommend spending $36 on it? No. If I wasn't comparing it to the old formula, I would tell you the same thing. It has nice pigmentation, it wears fine, and I do like how moisturizing it is. I just wish it had more shine and was a little less prone to the streakiness I mentioned above.
If you like the sound of a cream lipstick with a shine that will leave your lips better off after using it I would still recommend the Propa Beauty Luminous Satin Lipsticks ($12, 19 shades) and the Huda Beauty Power Bullet Cream Glow Hydrating Lipsticks ($27, 14 shades). Another good option if you don't mind using lanolin and can stomach the scent is the Maybelline Color Sensational Lipstick in "The Creams" line ($5.50, 40 shades not counting the Made For All line). The Estee Lauder shade range is bigger (31 shades) than both Propa Beauty and Huda Beauty, however, so if you actually like a satin finish, the Pure Color Creme Lipstick could still be worth checking out for you.
---
Thanks for reading!
---
If you enjoyed this post, please give it a like down below. If you'd like to check out more of my content, here are some places to start.
Brands A-Z: Check out this index if you want to know what products I have posted about in the past.
MAC Cosmetics: I likely have some swatches you've been searching for if you love Mac as much as I do.
The Wanderlust List: Join me as I search for alternatives to new releases.
Disclaimer: I purchased all products featured with my own money. This site receives a minimal commission from participating in the WordAds program and using affiliate links. For my full disclosure policy, click here.