The MAC x Stranger Things collection is nearly a month old at this point (I know that's practically ancient in the makeup world 😂) but I figured it wouldn't hurt to share the blush that I bought. I'm very happy to see MAC release a deeper blush option in a limited edition collection. Hopefully, sharing the He Likes It Cold blush swatch with comparisons to Flirting with Danger and Frankly Scarlet will help those with darker skin tones who may have been hesitant to try it out.
This blog uses affiliate links (marked with **). When you purchase through links on my site, I may earn a small commission. Learn more here.
This blush is very pigmented. I think going in with a light hand is wise regardless of your skin tone but especially if you are on the lighter end of the spectrum. I find this blush to perform in line with MAC's traditional matte blush formula (raizin, burnt pepper, desert rose, etc). It doesn't have kick up in the pan, but it does pick up very easily on a brush. I've used it with both natural hair and synthetic brushes and had no issues with either.
If you are new here, I have an olive undertone (MAC C8/Estee Lauder 4W4), so shades don't always translate the same on me, but hopefully seeing them next to other shades for context can be helpful. While these shades do have their similarities, what makes them different could make one of them preferable to you over another.
MAC describes He likes It cold as a vintage wash red and I have no idea what that means lol. To me, it is a more deepened neutral take on red.
Flirting with Danger is one of the matte mineralize blushes from MAC and it would be good for anyone that wants a warm red-orange blush. While I do like the matte finish, every time I wear it, I think it is odd that it doesn't look as healthy on me as MAC's regular matte formula. It just seems to be a drier matte. I have done a full review on this shade, you can check that out by clicking here.
Frankly Scarlet is a vibrant pinky red and I have to warn you, while it is one of MAC's traditional matte finishes, it is drier and harder to control the pigment than other MAC blushes. Even when I'm careful I can still overdo it and have to tone it down by going over it with my foundation brush. Using either a duo fibre brush or something very loose and wispy works best.
If you aren't into red blush or have a lighter skin tone, they also released a soft pink blush called Friends Don't Lie.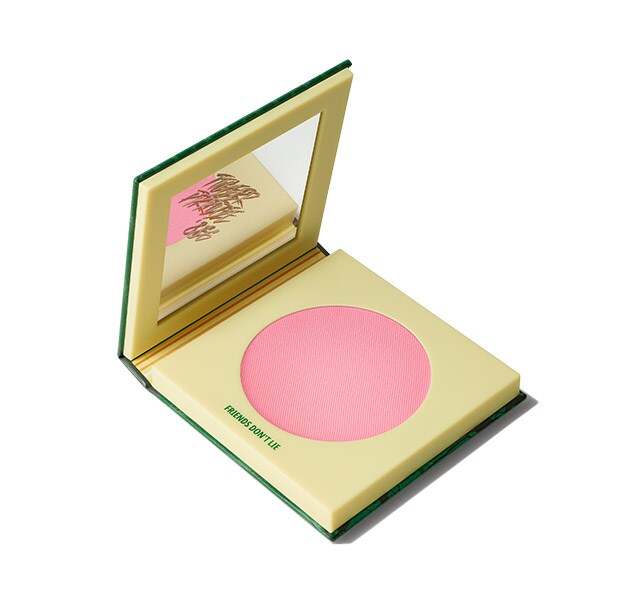 Friends Don't Lie, $28.00**
If blush isn't your thing, the collection also has two eyeshadow palettes, 6 lipglasses, a face brush, and an eye brush.**
This is obviously a limited edition release, but I'm not seeing any signs that it will sell out any time soon. So if you are interested, it might be worth it to wait for a sale. I do hope that with the increase in brands offering more than one shade in limited edition collections people actually buy the darker shades. It would be sad if these products don't get the sales numbers to continue being offered.
---
Did anything from the MAC x Stranger Things collection catch your eye?
---
If you enjoyed this post, please give it a like down below. If you'd like to check out more of my content, here are some places to start.
Brands A-Z: Check out this index if you want to know what products I have posted about in the past.
MAC Cosmetics: I likely have some swatches you've been searching for if you love Mac as much as I do.
The Wanderlust List: Join me as I search for alternatives to new releases.
Disclaimer: I purchased all products featured with my own money. This site receives a minimal commission from participating in the WordAds program and using affiliate links. For my full disclosure policy, click here.