If you haven't yet heard, the L'oreal True Match Super Blendable Foundation has been reformulated and repackaged for 2023. I do have a history with the original formula and although it's been a while since I used it, my experience with the new formula is the same. I think this is a beautiful foundation, but for my 40-year-old, dry sensitive skin, this is not my favorite foundation to wear. I felt the same way about the original formula. I'm not saying this won't work for others with dry skin because I think it actually works great. It just feels less comfortable throughout wear than I'd like. I did recently move, and I do wonder if my skin just hasn't fully embraced the climate change yet, but only time will tell.
Keep reading to hear about my experience with it, see what it looks like on me, and see some comparison swatches.
My Experience
L'oreal True Match Foundation is a solid medium coverage with a natural finish. I do not need to set this foundation with powder. On me, it dries down to a powder feel with no tackiness. It does have a pump and the pump is good enough to control and do partial pumps which is helpful. When I use a brush, I use 1 pump to do my entire face and then another half pump to build coverage in certain areas and I end up with medium coverage. It is easily buildable when you want or need to layer it, but it never goes beyond medium coverage. Medium coverage is all the brand is claiming, so that isn't a surprise, just something to know if you are looking for more or less coverage. I do notice that it sinks into my pores and my smile lines but I can only see that when I get up close in the mirror so it's not really an issue to me.
I have tested this out with a beauty sponge which I don't typically do, but I was wondering if it might agree with my skin more in this new climate. It does not. The beauty sponge gives lighter coverage (as all sponges do), so I use 2 full pumps with the sponge and I was happy with the finish and coverage. I do think that this foundation sits nicer on my skin, especially over my pores when applied with a sponge, but my face feels drier with that method. That is normal for me when I use a sponge and it's the reason I stopped using the beauty blender about a year ago.
As promised, the L'oreal True Match Super Blendable Foundation is very easy to blend and does so quickly. As I mentioned, it does dry down and set, but it doesn't dry so fast that you can't blend it out evenly. It is somewhat liquidy but I don't find it to be hard to control, it is very easy to work with. In addition to dry skin, I do also have some eczema that can flare up. While this formula didn't look the best over the eczema area near my brow, I've definitely seen worse and it is passable if you aren't examining it closely. So basically, the issues that this foundation does have are only an issue up close and no one is that close to my face. This wears well for me with no fading, but as I've mentioned in other reviews I never have trouble with wear time and I assume that is a dry skin thing. This is a solid foundation that really does look beautiful on my skin, I just wish it felt more comfortable.
L'oreal True Match – W7
The shade (W7) is the closest match they have for me, but the range does have some big shade jumps so that could be an issue for some people. I took a picture of the shade I purchased (W7) and the next warm shade down (W6.5) to show you what I mean. I was thinking W7 would be too dark so I wanted to drop down a shade, but that would be too light. W7 ended up being a good choice for me, but the shade jumps are just something to consider. Try to keep in mind that nothing is perfect. You should be looking for a shade that makes sense when you take a step back and consider how your face, neck, and chest look together. Most of us are not going to find an exact match in a foundation.
Comparisons – Estee Lauder 4W4, L'oreal W7, NARS Tahoe
To see what Estee Lauder 4W4 looks like on me, click here, and to see what NARS Natural Radiant Tahoe Looks on me, click here.
This blog uses affiliate links (marked with **). I may earn a small commission when you purchase through links on my site. Learn more here.
The Shade Range
The L'oreal True Match Super Blendable Foundation has an impressive range of 47 shades. Especially for being a drugstore foundation, the shade range is extensive. I will leave it up to those at the furthest ends of the shade spectrum to speak on if the range from light to dark is as good as it appears. Looks can be deceiving, so I'm not sure if the darkest and lightest shades are as good as they seem just by looking at the bottles. The swatches provided by the brand, don't look as dark or as light as the bottles might suggest, but again, I can't say for sure that they aren't.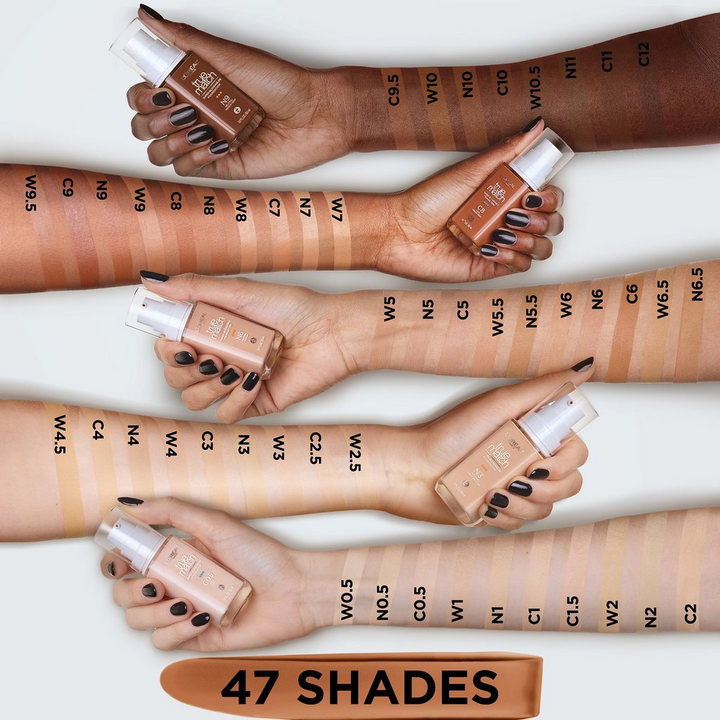 L'oreal True Match Super Blendable Swatches**
I will say, the undertones can be confusing because, for instance, the two warm undertone shades I featured above (W6.5 and W7) are different. When comparing them in the store I felt like shade W6.5 was more beige and did not have as yellow an undertone as W7. But that is not unique to L'oreal, all brands have this type of variation. I don't know if this is happening now in every Target (I hope it is), but my Target now has testers available for the full range. These weren't available when I bought mine over a month ago, so hopefully, if testers aren't in your local store yet, they will be coming soon.
L'oreal True Match Super Blendable Foundation retails for $13.99 but I got mine at Target where it was $9.99. I always recommend getting drugstore makeup at either Target or Walmart where the prices are lower and you can still use coupons. If you prefer to shop at Ulta, it is available there for $13.99 and of course, they do have their own coupons and allow manufacturer coupons as well.
Ulta – $ 13.99

Regular

Price

ULTA – L'Oreal True Match Super-Blendable Foundation**
Walmart – $ 9.97

Sale

Price

WALMART – L Oreal Paris True Match Super-Blendable Foundation W7 Warm Medium Deep 1 fl oz**
---
Have you tried the new L'oreal True Match? How did it go?
---
If you enjoyed this post, please give it a like down below. If you'd like to check out more of my content, here are some places to start.
Brands A-Z: Check out this index if you want to know what products I have posted about in the past.
MAC Cosmetics: I likely have some swatches you've been searching for if you love Mac as much as I do.
The Wanderlust List: Join me as I search for alternatives to new releases.
Disclaimer: I purchased all products featured with my own money. This site receives a minimal commission from participating in the WordAds program and using affiliate links. For my full disclosure policy, click here.