I know there are a lot of complaints about Sephora these days but I still love shopping there.  One of the biggest loves for me is getting to sample products I'm not sure of buying.  Several months ago I got a trio of Westman Atelier products to sample and was shocked at how much I enjoyed them.  The trio was Baby Cheeks Blush Stick in Petal, Face Trace Contour Stick in Biscuit, and Lit Up Glow Highlighter Stick in Lit.  The biggest reason I was excited to try these as a sample is that I always prefer powder products over cream.  So I certainly didn't want to spend Westman Atelier-level money on cream products.  Before I get into the shopping part, let's start off with swatches of the Westman Atelier Samples.
Westman Atelier Baby Cheeks Blush Stick
---
Westman Atelier Face Trace Contour Stick
---
Westman Atelier Lit Up Glow Highlighter Stick
Long story short, I ended up enjoying 2 of the 3 items.  The highlighter doesn't dry down and I just felt it was too sticky for my taste. Surprisingly, the biscuit contour did show up on me, but it is very subtle and took building. This is definitely a product that could use a shade expansion. It shocked me how much I liked the blush. It was easy to apply, didn't disturb my foundation (remove coverage), and the color worked for me. So then I found myself on the verge of buying the blush stick during the Sephora VIB sale back in November.  I talked myself out of it, but I continued to not only think about it but also try to find a cheaper alternative.  Since I was already doing the research, I thought it would be fun to take you guys through similar products I discovered. 
Important note: I have not tried any of the other products featured on my face. My thoughts on color and consistency are based on swatching them in store. So keep in mind that I don't have enough context to claim anything here is an actual dupe, they are all just cream blushes in the stick format.  
---
This blog uses affiliate links (marked with **). I may earn a small commission when you purchase through links on my site. Learn more here.
Westman Atelier Baby Cheeks Blush Stick, $48, 7 shades
Westman Atelier Baby Cheeks Lip + Cheek Cream Blush Stick**
Westman Atelier Baby Cheeks Lip + Cheek Cream Blush Stick Swatches**
---
Makeup by Mario Soft Pop Blush Stick, $28, 6 shades
Makeup by Mario Soft Pop Blush Stick, $28**
The Makeup By Marios Blush Stick is probably the stick blush I prefer the most of the ones I checked out. Since I prefer to apply products with a brush rather than swiping them directly on my face, the wider tube makes me feel like I would be able to get a more even coat of blush on my brush with this one. The formula felt slick to me but not wet enough to disturb foundation and it was seemingly easy to blend. It does have a sheen that the brand is calling a radiant finish. I also really like the color options in this formula.
Makeup by Mario Soft Pop Blush Stick swatches**
---
r.e.m Beauty Eclipse Cheek and Lipstick, $18, 10 shades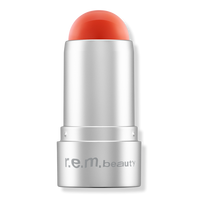 r.e.m Beauty Eclipse Cheek and Lipstick, $18**
While I didn't like the formula of the r.e.m Beauty Eclipse Cheek and Lipstick, I was impressed with the shade range. This formula is stiffer and drier than all other options I tried but it is much more pigmented if you are someone that struggles to find a cream blush that shows up. It dries down fast and sets to a powder finish, which just wouldn't suit my dry skin preferences. I also get the feeling that it would move the foundation underneath. The claims on the Ulta website say that this is supposed to be luminous, hydrating, and creamy, which I just don't get. I was wondering if the addition of kaolin clay was the issue, but the Westman Atelier also has that ingredient and it's much easier to blend and not as dry. It is also possible that the testers could have dried out over time, but even looking at the brand's provided swatches doesn't make me think these will be luminous.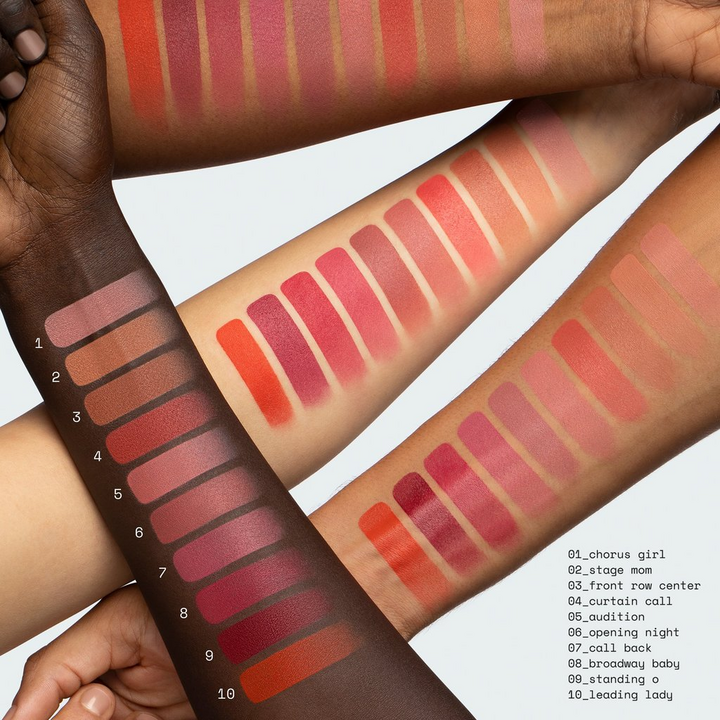 r.e.m Beauty Eclipse Cheek and Lipstick swatches**
---
Anastasia Beverly Hills Stick Blush, $32, 7 shades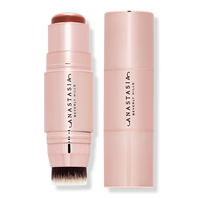 Anastasia Beverly Hills Stick Blush**
I ultimately feel like the Anastasia Beverly Hills (ABH) Stick Blush is the closest to Westman Atelier Baby Cheeks Blush Stick. Again, I'm not saying it's a dupe, especially considering I am going off my experience with testers in the store. But I did swatch and compare these on several occasions. I recently moved and Sephora and Ulta are now very close to home so it is very easy to drop in and try things out. The ABH blush stick is a little less stiff than Westman Atelier but it blends very similarly and is possibly a little more luminous. Having actually used the Westman Atelier formula, I can imagine that it has better-staying power than the ABH because it seems to set down better. The ABH stick is slightly wider than Westman Atelier, but not by enough to make a big difference for applying it to a brush.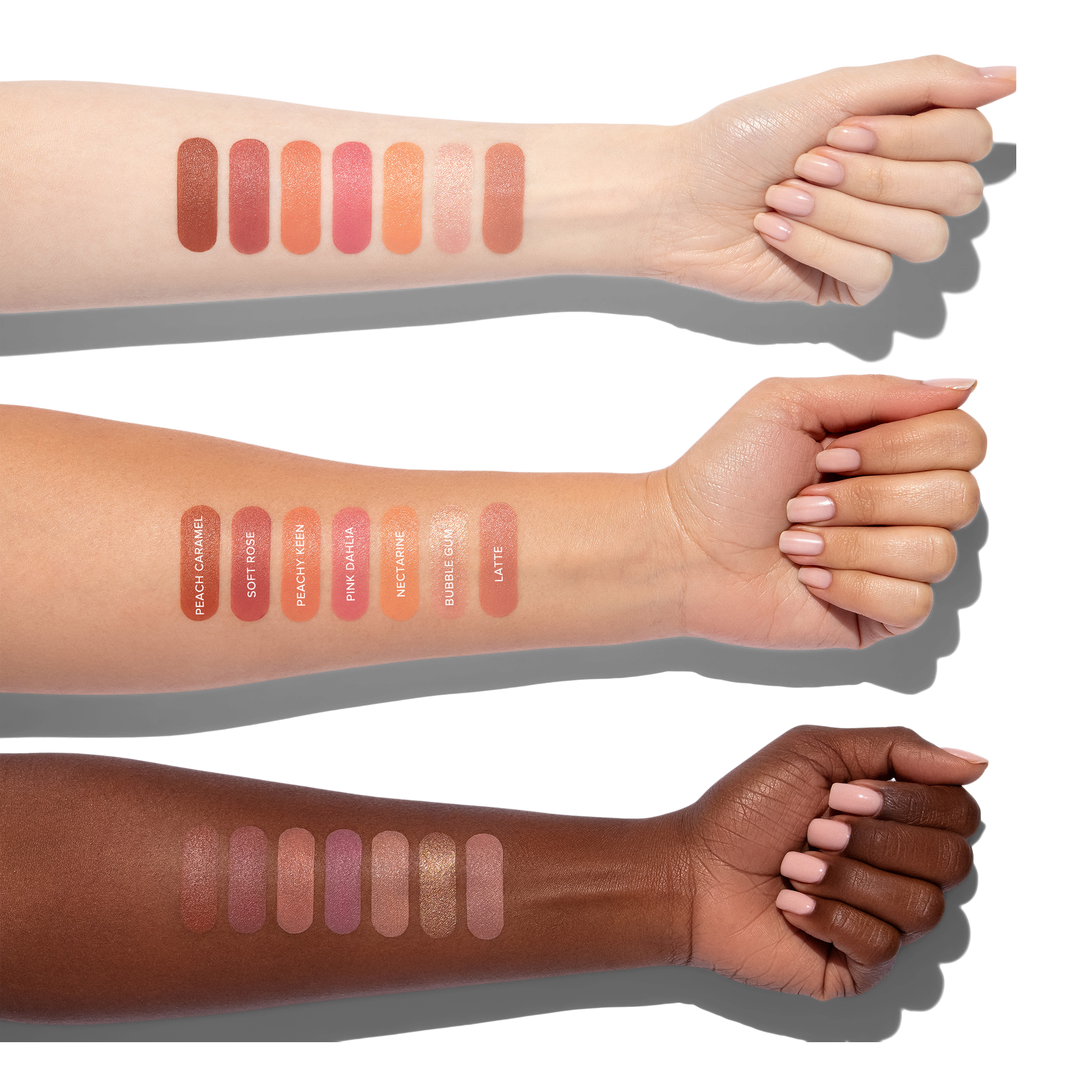 Anastasia Beverly Hills Stick Blush Swatches**
---
Did I Buy Any Of It?
Since I was able to enjoy using the Westman Atelier sample, I'm feeling like it has satisfied my curiosity about the Baby Cheeks Blush Stick.  But I'll be honest, if I decide to go against my powder blush love and get one of these, I will likely spend the money on the Westman Atelier.  Ultimately it'd be better to have the actual product that piqued my interest rather than to buy something else (even if it's cheaper) and end up still wanting the original product.
If I never tried the Westman Atelier formula and I was deciding between these four blushes, I would buy the Makeup By Mario Soft Pop Blush Stick. Despite feeling like the ABH formula was the closest to Westman Atelier, the Makeup By Mario has better color options for me. I do also want to point out that the Westman Atelier packaging is far better than any of the other options I've shared with you. However, I know that for some people, the cost savings is worth forfeiting the nicer packaging.
---
Have you tried any of these blush sticks? How did they work out for you?
---
If you enjoyed this post, please give it a like down below. If you'd like to check out more of my content, here are some places to start.
Brands A-Z: Check out this index if you want to know what products I have posted about in the past.
MAC Cosmetics: I likely have some swatches you've been searching for if you love Mac as much as I do.
The Wanderlust List: Join me as I search for alternatives to new releases.
Disclaimer: I purchased all products featured with my own money. This site receives a minimal commission from participating in the WordAds program and using affiliate links. For my full disclosure policy, click here.