NARS skipped right over spring and decided to drop the Summer Unrated Collection.
This blog uses affiliate links (marked with **). When you purchase through links on my site, I may earn a small commission. Learn more here.
NARS Summer Unrated Eyeshadow Palette**
With this launch, NARS is emphasizing that they have turned 3 blush shades into Eyeshadow, Laguna, Orgasm, and Taj Mahal. If you've been here a while you may recall my review of the Taj Mahal Eyeshadow Quad (click here for that review and swatches). Unfortunately for me, Taj Mahal was a miss. I have a feeling that the shade may not work for me because its depth is too close to my skin tone, so it doesn't stand out enough.
I do tend to be a fan of NARS eyeshadows more often than not. The only formula of theirs that I don't get along with is the glitter formula. However, in their defense, I don't like any brand's glitter formula. I talked about this formula in my post about their Mini Voyageur Quartz palette.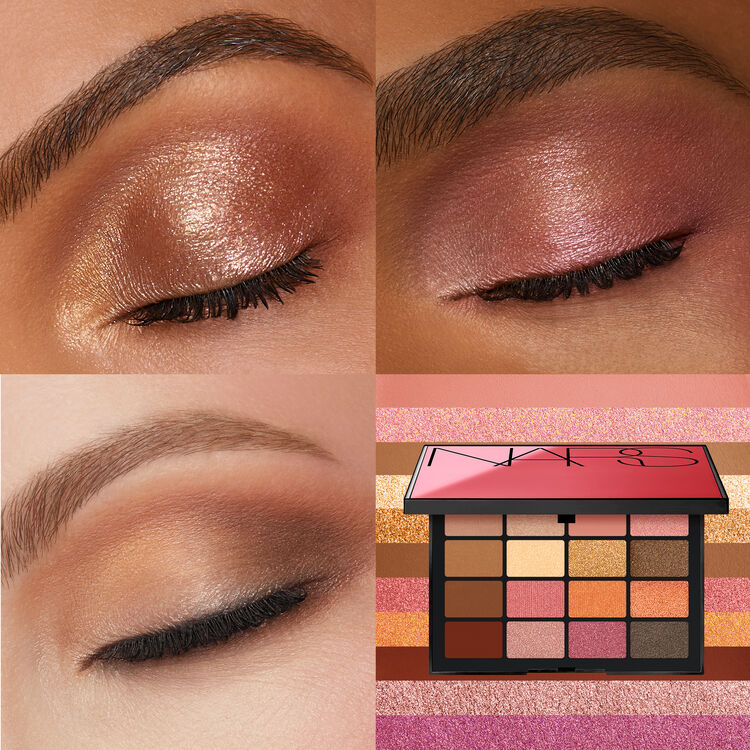 ISLA (matte light tan)
CRETE (soft pink gold)
SPIAGGIA ROSA (matte dirty peach)
ORGASM (peachy pink with golden shimmer)
LAGUNA (satin warm brown)
SATISFY (champagne shimmer)
PALMETTO (sparkling metallic gold)
KOMODO ISLAND (chocolate with gold glitter)
PALMAS (matte red brown)
BIRD OF PARADISE (sparkling rose gold)
TAJ MAHAL (burnt tangerine with gold shimmer)
LOVE ON FIRE (copper glitter)
TIKEHAU (matte mocha brown)
SUMMER MOON (cool pink shimmer)
BAD INTENTIONS (raspberry shimmer)
FETISH (shimmering espresso)
NARS Summer Unrated Blush/Bronzer Duo (Dominate/Cyprus)**
NARS Summer Unrated Blush/Bronzer Duo(Orgasm X/Casino)**
NARS Summer Unrated Blush/Bronzer Duo (Orgasm/Laguna)**
How exciting is it to see 3 options for different skin tones in a limited edition collection? I really hope this becomes more common for NARS. They are always releasing Laguna and Orgasm and at this point, they must know that everyone can not use those shades. The darkest duo has the blush shade Dominate and a new bronzer shade called Cyprus. I have reviewed and swatched Dominate in the past (click here for that post) but I did notice that the ingredients of these blushes and bronzers are different than their permanent counterparts. Obviously, it remains to be seen how deep the Cyprus bronzer is in action, but I really hope they did a great job for darker skin tones this time. I've reviewed and swatched the shade Orgasm X (check that post out here). I have also talked about the bronzer formula a few times in the past (check out my most recent mention of it here). Again, the ingredients are slightly different on all of these items so while I wouldn't assume they work the exact same, they should at least give you an idea of the colors for Dominate and Orgasm X.
Right now the Summer Unrated Collection is an Ulta exclusive**, but you can also purchase it directly from the NARS website.
---
If you'd like to check out more of my content, click here for the best place to start.
Disclaimer: I purchased all products featured with my own money. This site receives a minimal commission from participating in the WordAds program and using affiliate links. For my full disclosure policy, click here.